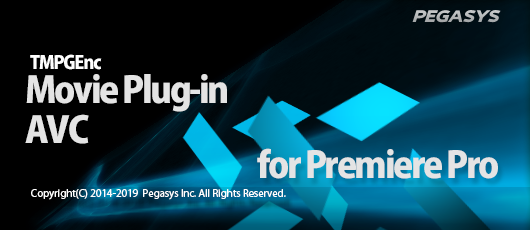 TMPGEnc Movie Plug-in AVC for Premiere Pro is a plug-in that brings Pegasys Inc.'s H.264/MPEG-4 AVC ("H.264/AVC") export functions to the Adobe® Premiere® Pro output formats. This plug-in uses the x264 engine for the main encoder, which provides a high-speed export at the highest quality by combining Pegasys' proprietary technology with x264's high quality functions and numerous detailed parameters.

Moreover, computers equipped with SandyBridge or later Intel® Core processors with Intel® Media SDK (Quick Sync Video) can access the processor's hardware encoder through the TMPGEnc Movie Plug-in AVC for Premiere Pro.
Attention
Also refer to your computer, Adobe Premiere Pro, editing software, encoding software, writing software, and capture device's User Manual.
Product specifications may change without prior notice.
Do not infringe on copyright laws.
Trademarks and Registered Trademarks
TMPGEnc and the TE logo are registered trademarks of Pegasys Inc.
Adobe, the Adobe logo, and Adobe Premiere are either registered trademarks or trademarks of Adobe Systems Incorporated in the United States and/or other countries.
Microsoft, Windows are registered trademarks of Microsoft Corporation for the United States of America and other countries.
Dolby and the double-D symbol are trademarks of Dolby Laboratories.
Copyright 1993-2005 Dolby Labororatories. All rights reserved.
H.264/MPEG-4 AVC video encoding technology licensed by x264 LLC.
MPEG Layer-3 audio coding technology licensed from Fraunhofer IIS and Thomson.
FLAC - Free Lossless Audio Codec: Copyright© 2000-2009 Josh Coalson Copyright© 2011-2013 Xiph.Org Foundation
xbyak - Copyright© 2007 MITSUNARI Shigeo. All rights reserved.
Mersenne Twister - Copyright© 1997 - 2002, Makoto Matsumoto and Takuji Nishimura, All rights reserved.
zlib - Copyright© 1995-2013 Jean-loup Gailly and Mark Adler
All other marks, product names and company names are the property of their respective owners.

No effort has been made in this document to include ™or ®marks.