Advanced
Sets the advanced parameter settings.
* When the values are changed, there is a possibility that a device cannot play it, or the time required for encoding increases.
* For the settings of the x264 encoder, please refer to this page.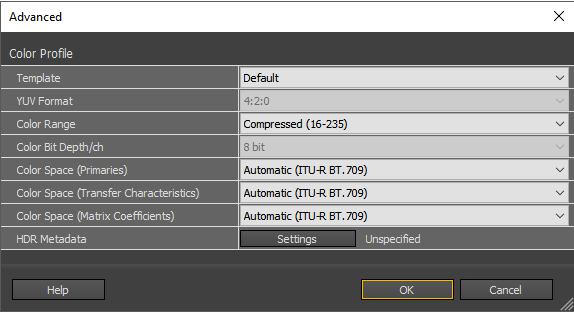 About the x264 Parameters
The following represents the setting parameters used in TMPGEnc Movie Plug-in AVC for Premiere Pro compared with that of the original x264. Some parameter's limitations and functions of the x264 encoder implementation are different from the original x264.
Aspect Ratio [--sar]
(* When the display aspect ratio, set the appropriate value of the size resolution to [--sar].)
VBR(Constant quality)[--crf]
(* In this application, remapped 0 to 100. High values means high quality)
Maximum Bitrate [--vbv-maxrate]
Color Range [--range]
Color Bit Depth/ch[--input-depth]]
Color Space (Primaries)[--colorprim]
Color Space (Transfer Characteristics)[--transfer]
Color Space (Matrix Coefficients)[--colormatrix]