Advanced
Sets the advanced parameter settings.
* When the values are changed, there is a possibility that a device cannot play it, or the time required for encoding increases.
* Available options depend on the selected the "Video Encoder" in the [Video] tab and the "Stream Format" in the [Multiplexer] settings.
* For the settings of the x264 encoder, please refer to this page.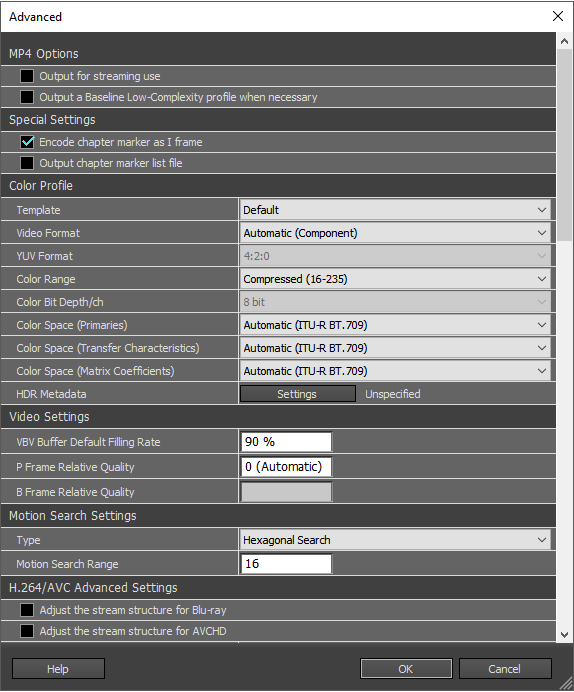 -
H.264/AVC Advanced Settings

About the x264 Parameters
The following represents the setting parameters used in TMPGEnc Movie Plug-in AVC for Premiere Pro compared with that of the original x264. Some parameter's limitations and functions of the x264 encoder implementation are different from the original x264.
* [-- ] means original settings of the original x264.
Aspect Ratio [--sar]
VBR(Constant quality) [--crf]
 (*In this plug-in, remaped to 0〜100. High value means high quality)
Maximum Bitrate [--vbv-maxrate]
VBV Buffer Size [-vbv-bufsize]
Maximum Number of Reference Frames [--ref]
Normal Number of Frames in GOP [--keyint]
Minimum Number of Frames in GOP [--min-keyint]
Number of B Frames in GOP [--bframes]
Detect Scene Change [--scenecut]
Video Format [--videoformat]
YUV Format [--input-csp]
Color Range [--range]
Color Bit Depth [--input-depth]
Color Space (Primaries) [--colorprim]
Color Space (Transfer Characteristics) [--transfer]
Color Space (Matrix Coefficient) [--colormatrix]
VBV Buffer Default Filling Rate [--vbv-init]
P Frame Relative Quality [--ipratio]
 (* ipratio = 1.0 / Value (Min unit =0.1 High value means high quality),Automatic: ipratio=1.4)
B Frame Relative Quality [--pbratio]
 (* pbratio = 1.0 / (Value x ipratio ) (Min unit =0.1 High value means high quality),Automatic: pbratio=1.3)
Motion Search Type [--me]
Motion Search Range [--merange]

Adjust the steream structure for Blu-ray [--bluray-compat]

Number of Slices [--slices]
Allow 8x8 transform [--8x8dct] * High Profile only
 (*Disabled [--no-8x8dct])
Constrained Intra prediction [--constrained-intra]
Minimum Quantize Value [--qpmin]
Maximum Quantize Value [--qpmax]
Color Channels QP Offset [--chroma-qp-offset]
Quantization Matrix [--cqm]
Deblocking Filter Mode [--deblock Alpha:Beta]
Deblocking Filter Alpha Coefficient [Above Alpha]
Deblocking Filter Beta Coefficient [Above Beta]
Direct Mode Prediction [--direct]
Weighted Prediction Mode (P Frame) [--weightp]
 (*Disabled [--no-weightp])
Weighted prediction mode (B Frame) [--weightb]
 (*Disabled [--no-weightb])
Allowed Macroblock Mode [--partitions]
B Frame Pyramid Mode [--b-pyramid]

Process slices in thread [--slice-threads]
Use deterministic processing [--deterministic]
Apply psychovisual optimization [--psy]
 (*Disabled [--no-psy])
Use color channels for motion search [--chroma-me]
 (*Disabled [--no-chroma-me])
Use mixed references [--mixed-ref]
Use fast P-Skip search [--fast-pskip]
 (*Disabled [--no-fast-pskip])
Apply DCT decimation [--dct-decimate]
 (*Disabled [--no-dct-decimate)
Apply macroblock tree optimization [--mbtree]
 (*Disabled [--no-mbtree])
Adjusted B Frame Insertion [--b-adapt]
Adjusted B Frame Insertion Bias [--b-bias]
Sub-Pixel Motion Estimation Mode [--subme]
Trellis Quantization [--trellis]
Adaptive Quantization Mode [--aq-mode]
Adaptive Quantization Strength [--aq-strength]
Psychovisual Rate Distortion Strength [--psy-rd RD]
Psychovisual Adjustment Trellis Strength [--psy-rd RD:Trellis]
Thread Pre-Search Frame Count [--sync-lookahead]
Maximum Motion Vector Range [--mvrange]
Inter Motion Vector Thread Buffer [--mvrange-thread]
Bitrate Fluctuation Tolerance [--ratetol]
Rate Control Pre-Search Frame Count [--rc-lookahead]
Intra Quantization Dead Zone [--deadzone-intra]
Inter Quantization Dead Zone [--deadzone-inter]
Quantizer Step Count [--qpstep]
QP Curve Compression [--qcomp]
QP Pre-Curve Compression [--cplxblur]
QP Post-Curve Compression [--qblur]
Noise Reduction [--nr]