TMPGEnc MPEG Smart Renderer 5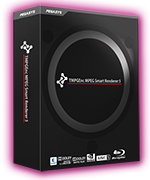 TMPGEnc MPEG Smart Renderer 5 is a high-speed video cutting tool focusing on MPEG video file formats. The product is designed so that you can cut videos with great speed and detail, and also incorporates the "Smart Rendering" function which allows super-fast output with practically no loss in quality.
In addition to MPEG-1/2 and H.264/AVC, this version newly supports H.265/HEVC - a new format for the 4K and 8K generation. With an aim on increased Smart Rendering support, this tool takes a "back to basics" approach, focusing on faster and smoother video editing. It not only reconsiders the internal processing but also pursues to optimize elements other than programming such as the seeking procedure, the cutting order and other functions. One new feature, the Production Tool, is developed for your advanced preparation for editing, which allows you to perform the Commercial Candidate Detector and Indexing for Seeking functions automatically. Also including a Blu-ray BDAV authoring function, this new product can grant amazingly high-speed, high quality cut-editing and outputting.
---
Native Support for 64-bit Architecture.
This version is designed only for 64-bit architecture environments. Along with this enhancement, the application is capable of using an outstandingly large memory size. Therefore, editing operations that contain ultra HD editing, complex filtering, file importation, video rendering, clip copying, etc. become much easier and lighter to handle.
*This application does not support 32-bit OS environments.
---
Smart Rendering function - Implements ultra-fast and excellent picture quality output.
What makes it high quality? Exports losslessly other than Cut and Connected ranges.
How is high speed output possible? Unchanged video parts are not re-encoded.
TMPGEnc MPEG Smart Renderer 5 features the "Smart Rendering" output function. Smart rendering has the ability to analyze a video file and re-encode only the parts that have been changed, such as cut/split/join points and sections where transitions or other effects have been added. Parts of the video that have not changed are not re-encoded.
Besides taking a long time, re-encoding changes the video/audio data; this can cause differences in quality depending on the encoder and the output settings. Thus, it is typically a best practice to keep the original data unchanged as much as possible to maintain the original quality and avoid degradation.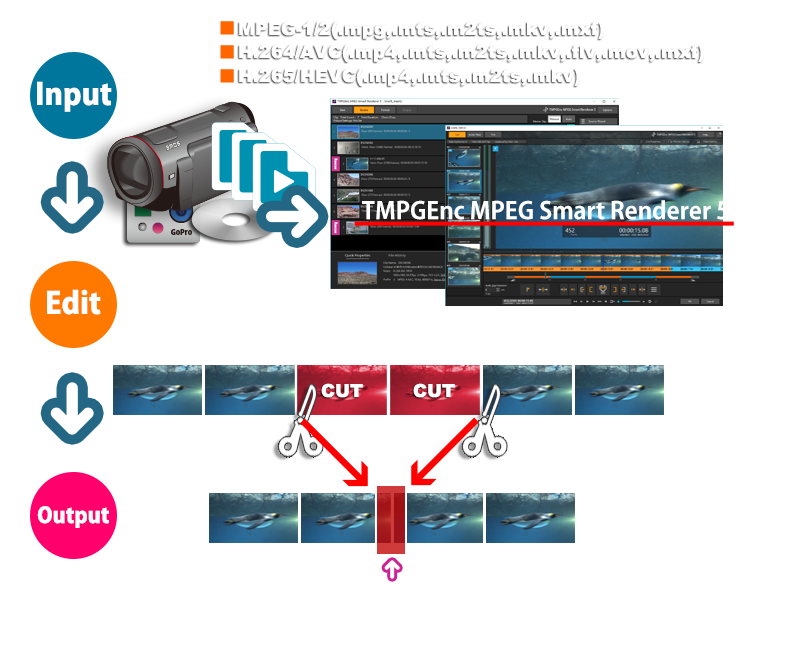 Supported Formats - Now Supports H.265/HEVC

TMPGEnc MPEG Smart Renderer 5 supports the smart-rendering of the MPEG-2 Video format which is used for DVD-Video, the H.264/AVC format which is for websites such as YouTube, devices such as smartphones, AVCHD camcorders, and the "H.265/HEVC" format which is newly supported and the successor to H.264/AVC and is the latest video compression standard. TMPGEnc MPEG Smart Renderer 5 is great for editing AVCHD or XAVC camcorder recoding videos, Blu-ray disc videos, web videos, and more.
MPEG-1/2
H.264/AVC
H.265/HEVC
* Some supported format files may not be smart-rendered depending on the video parameters, etc.
TMPGEnc MPEG Smart Renderer 5 does not have the functions for compressing whole video files, nor for changing the resolution. If you want those functions, please consider our multi video encoder, "TMPGEnc Video Mastering Works 7".
---
Joins files "Smartly."
File Connecting - Ultra Fast and High Quality.
TMPGEnc MPEG Smart Renderer 5's smart rendering function supports not only cut ranges but also where files are connected. This allows you to join multiple files which are recorded by a digital camcorder or smartphone into one file.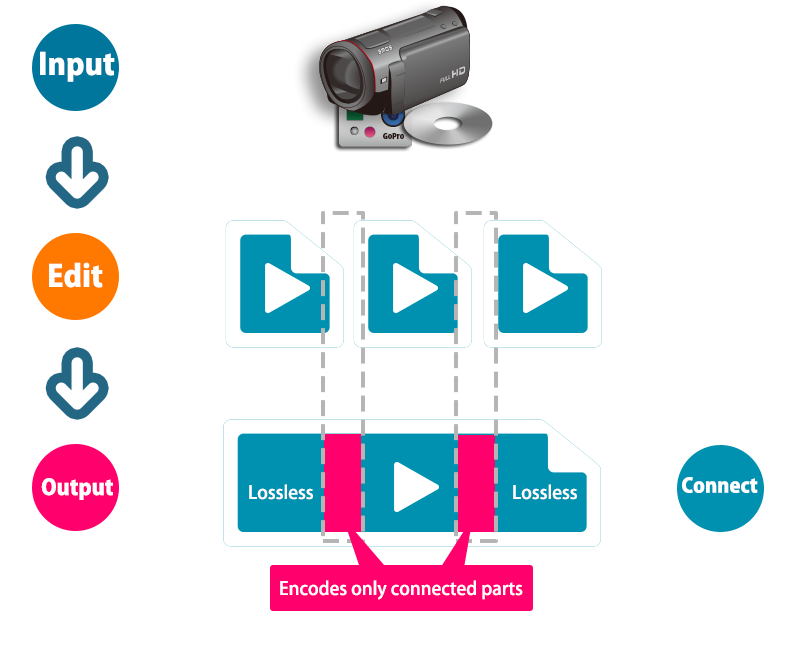 Rescue Clip Function - Encodes in High Quality
Even for Non-Smart Renderable Videos.

Simply put, no smart rendering problems will occur when importing files which were recorded by the same device since the video parameters are the same. However, importing multiple clips that have different parameters (such as resolution) from each other requires adopting the different parameters which cannot be smart rendered. In such cases, TMPGEnc MPEG Smart Renderer 5 can analyze and reflect the files which have different parameters as a "Rescue Clip", and can join and output in high quality using the integrated high-definition encoder.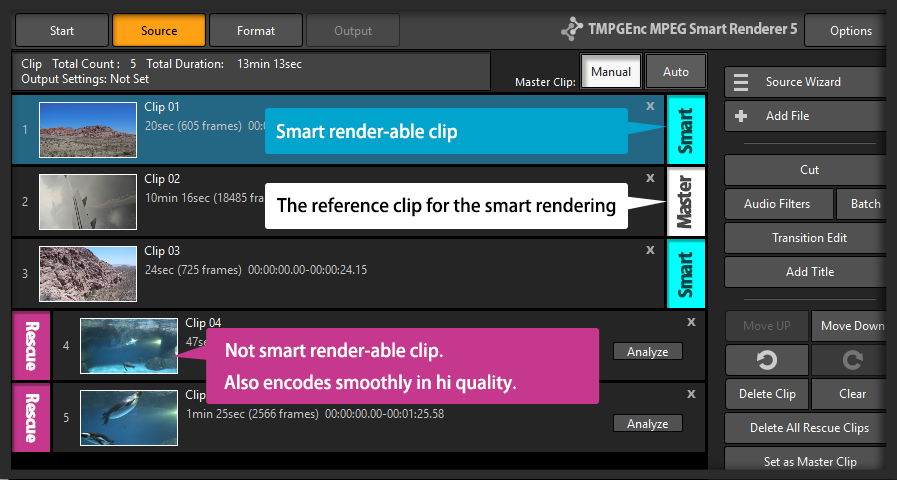 * Only supported MPEG formats can be input into TMPGEnc MPEG Smart Renderer 5 as a Rescue Clip.
At least one video file must be smart renderable per project.