TMPGEnc Movie Plug-in AVC for Premiere Pro
Requires: Adobe Premiere Pro (Windows) 2020 (14.x) / 2021 (15.x) (sold separately)
Price: $74.95
---
TMPGEnc Movie Plug-in AVC for Premiere Pro brings Pegasys Inc.'s H.264/MPEG-4 AVC ("H.264/AVC") export function to Adobe® Premiere® Pro CC. This plug-in uses the x264 engine for the main encoder, which provides high quality and high-speed export by combining Pegasys proprietary technology with the x264's high quality functions and numerous detailed parameters. Hardware encoding can also be utilized on systems with Sandy Bridge or later Intel® Core processors with Intel Media SDK (Quick Sync Video).
With this plug-in, the TMPGEnc H.264 encoder is enabled in the export settings. Select from MP4, MPEG-TS and MKV for your container or choose elementary stream output with Dolby Digital or AAC audio. Set up your settings manually or use the preset templates for Blu-ray, AVCHD, or mobile devices, making it easy to encode even if you not sure about what settings to use.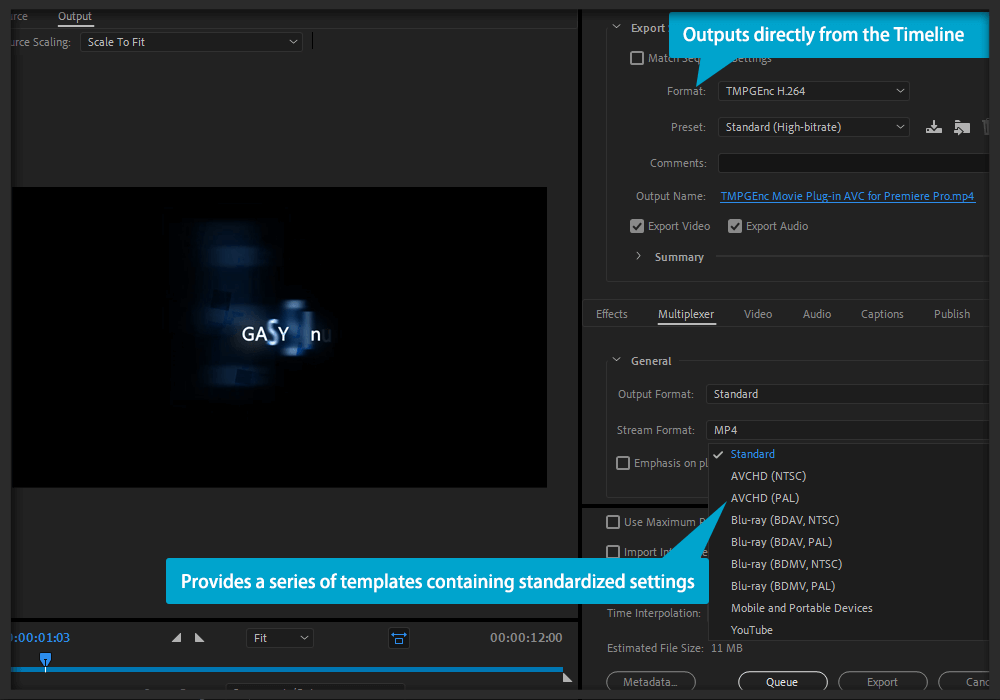 Encode in ultra HD 8K resolution (8192 x 4352) with support for the Level 6.2 profile and level setting. Want to customize your H.264/AVC encode even more? Change settings for the GOP structure, quantization matrix, color space and more!
TMPGEnc Movie Plug-in AVC for Premiere Pro supports outputting in HDR (High Dynamic Range)*. This allows you to output edited content in the HDR color space as is by just selecting a template. Also, the plug-in supports metadata output for the Chromaticity Coordinate, max and min luminance, MAXCLL and MaxFALL of the target (master) monitor.
* PQ and HLG supported. (Ver.1.1.0.17 or later)

The TMPGEnc H.264/AVC encoder uses the x264 high quality encode engine, the same encoder that YouTube, Facebook and many other websites have chosen for their video processing. World renowned for its high image quality to compression ratios, the x264 encoding engine will help you achieve the highest image quality without the high file size.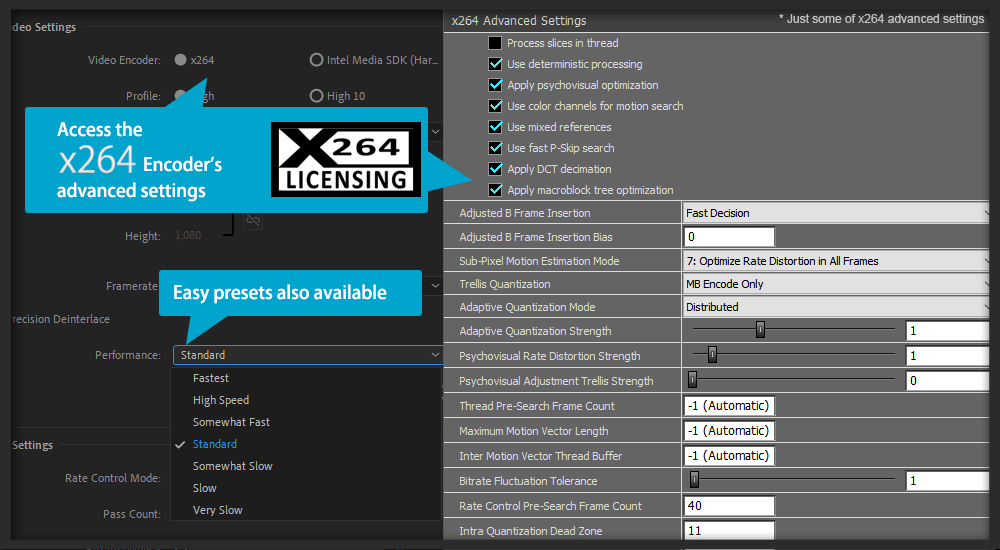 * Some parameters and options are different from that of the original.
The plug-in utilizes the Fraunhofer IIS audio encoder, so there is no compromise in the quality of the audio. Output your audio with formats typically associated with H.264/AVC, such as AAC audio, in addition to other formats like MP3 and Dolby Digital.
* MKV container or elementary output only.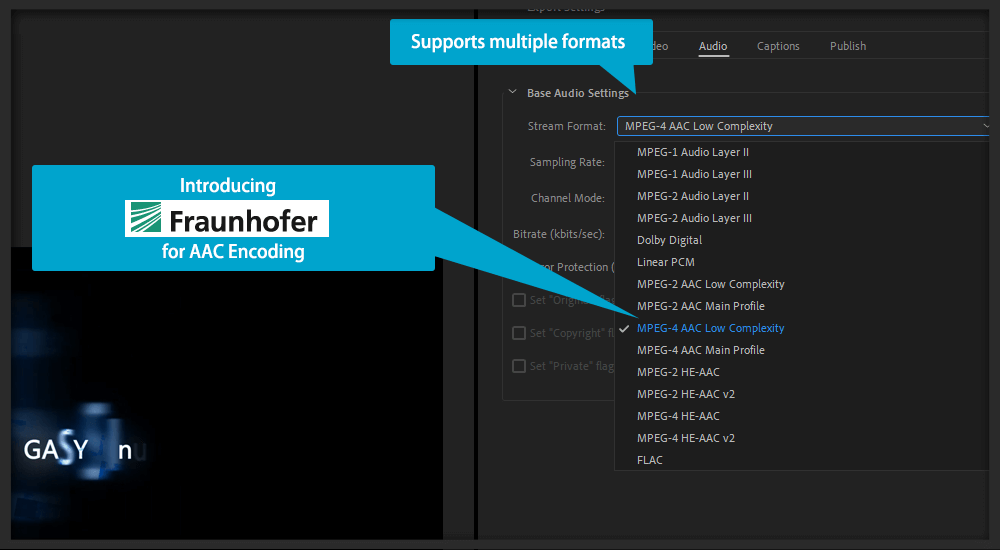 In addition to the H.264/AVC output configurations, you can choose from templates for Blu-ray Disc (BDMV / BDAV), AVCHD, and mobile devices such as the iPhone. These templates allow you to easily output video in compliance with the selected device without having to know the often complex encoding parameters needed for proper playback.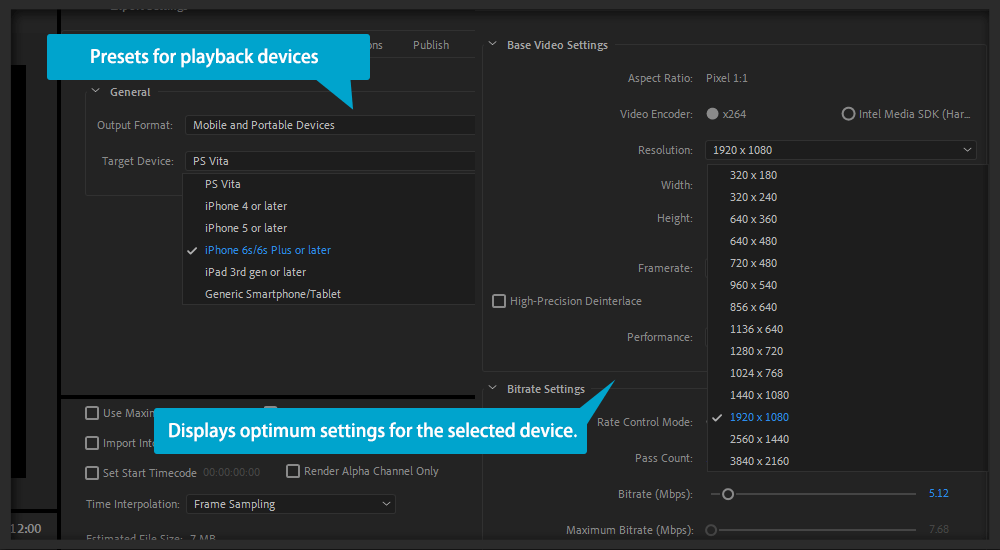 Take advantage of hardware H.264/AVC encoding if your computer is equipped with second generation Intel® Core™ processors with Intel Media SDK (Quick Sync Video).
* Intel Media SDK Hardware encoding fewature requires a compatible environmen.

Download the free 14-day trial and test out the software for yourself!
System Requirements
Computer
IBM PC/AT compatible
Virtual environments are not supported.
If using a notebook PC, please make sure it is cooled efficiently.
Applied product
Adobe® Premiere® Pro 2020 (14.x) / 2021 (15.x) installed environment.
* This product cannot be installed without the above environment.
Operating System
Same as Adobe Premiere Pro (Windows) requirements.
CPU
Same as Adobe Premiere Pro (Windows) requirements.
RAM
Same as Adobe Premiere Pro (Windows) requirements.
Hard disk drive
About 100 MB + space for data.
Display
Same as Adobe Premiere Pro (Windows) requirements.
Other
Access to the Internet required for periodic online license validation and software updates.
Intel Media SDK hardware encoding feature requires a Sandy Bridge or later Intel Core processor with Quick Sync Video functionality.

Attention
Please refer to the instruction manual of your PC, Adobe Premiere Pro, other editing software, encoding software, and capture equipment.
Product specifications may be subject to change without notice in the future.
Do not violate copyright law.

Copyright Information:
The specifications of the product are subject to change without notice.
TMPGEnc and the TE symbol are registered trademarks of Pegasys Inc.
Adobe, the Adobe logo, and Adobe Premiere are either registered trademarks or trademarks of Adobe Systems Incorporated in the United States and/or other countries.
Microsoft, Windows are registered trademarks of Microsoft Corporation for the United States of America and other countries.
Dolby and the double-D symbol are trademarks of Dolby Laboratories.
Copyright 1993-2005 Dolby Labororatories. All rights reserved.
H.264/MPEG-4 AVC output uses the x264 LLC encoding engine.
MPEG Layer-3 audio coding technology licensed from Fraunhofer IIS and Thomson.
FLAC - Free Lossless Audio Codec: Copyright© 2000-2009 Josh Coalson Copyright© 2011-2013 Xiph.Org Foundation
xbyak - Copyright© 2007 MITSUNARI Shigeo. All rights reserved.
Mersenne Twister - Copyrightc 1997 - 2002, Makoto Matsumoto and Takuji Nishimura, All rights reserved.
zlib - Copyrightc 1995-2013 Jean-loup Gailly and Mark Adler
All other marks, product names and company names are the property of their respective owners.
No effort has been made to include ™ or ® marks.