VST Plug-in :Pegasys EQ-15

---
PEGASYS EQ-15 is a 15 band equalizer VST plug-in. VST, or Virtual Studio Technology, is an interface standard for connecting audio synthesizer and effect plug-ins to audio editors and hard-disk recording systems. With this plug-in, each of the 15 bands' frequency ranges can be changed from 25Hz to 160000Hz, and each frequency band can be toggled on or off with a single click. In addition, the Link function allows you to move multiple sliders at once, and the In / Out mixer function allows you to change from input to output sound easily.

Compatible Products:
TMPGEnc Video Mastering Works 7
TMPGEnc Video Mastering Works 6
TMPGEnc Video Mastering Works 5(Ver.5.4.0.100 and later)
VST plug-in compatible software (use with other software not subject to support)
---
You won't need instructions once you look at the simple, easy to use interface for the EQ-15 plug-in. Simply move the sliders up and down to hear the results in realtime.
15 Adjustable Frequency Bands.
The EQ-15 has 15 bands with the capability of changing the frequency range from 25Hz to 16000Hz. This range is suitable for audio sources of various file formats when using video editor software such as TMPGEnc Video Mastering Works 5. For DB ranges, the wide positive range makes detailed adjustment possible, and the narrow negative range reduces redundant mouse movement.
Turn On/Off Each Band With One Click.
Each band has a band active switch, allowing you to easily enable or disable a band by clicking on the number of each frequency.

Synchronize Sliders with the Link Button.
The EQ-15 has 15 control sliders, and it can be time-consuming to adjust each one. Instead, use the LINK button which synchronizes all of the sliders for the frequency bands with one-tap, allowing you to move them all at once.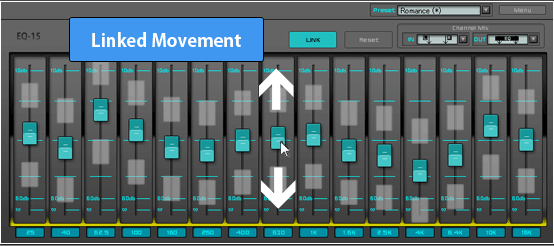 Easily change the channel mixing for input and output sound by choosing the method from the Channel Mix Selector.

Input Mixer.
You can choose the method from 5 mix patterns.
Output Mixer.
The Output mixer has 4 mix patterns.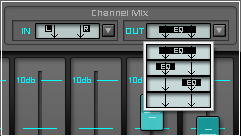 Download the Pegasys EQ-15 VST Plug-in Below!
Minimum System Requirements
Computer
IBM PC/AT compatible
OS
- Windows 10 (32-bit / 64-bit versions)
- Windows 8 (32-bit / 64-bit versions)
- Windows 7 SP1 (32-bit / 64-bit versions)
- Windows Vista SP2 (32-bit version)
- Windows XP SP3 (32-bit version)
CPU
Pentium III 1.0 GHz, equivalent or better
RAM
256 MB or more
Hard Disk Space
Around 10 MB
Display
1024×768 pixels or higher
Other
Compatible VST plug-in product installed. *We do not offer user support when used with other companies' software. Please contact the software maker for any issues.

Copyright Information:
Product specifications subject to change without notice.
TMPGEnc and the TE symbol are registered trademarks of Pegasys Inc.
VST PlugIn Interface Technology by Steinberg Media Technologies GmbH.
*This software is not covered by any support or guarantee of operation. Please use it at your own risk.
---