TMPGEnc Authoring Works 6

TMPGEnc Authoring Works 6 is the best software to create a DVD / Blu-ray / AVCHD with high quality menus. It has the most powerful authoring engine which combines the best quality encoding engine with the "Smart Rendering" function that allows ultra-fast output of standard complaint video with little to no loss in quality.

This version brings advanced fast editing and output to fruition by re-evaluating and optimizing all of the editing engines with their conversion into 64-bit native architecture. In addition to the widely increased import formats such as H.265/HEVC, MXF, it implements new features such as "Track BGM", "Advanced Highlight" and more. It maintains the core concept that "anyone can create without confusion", letting you go beyond your own expectations. Start you own "Authoring Works" today!
---
Supports Blu-ray, DVD and AVCHD with Menu Creation
TMPGenc Authoring Works 6 allows you to edit, output video files for Blu-ray (BDMV), DVD-Video or AVCHD authoring (converting to a format for playback on a player), then create a disc. You can contain a maximum of 4 audio and 8 subtitles streams*1 into your project, or even add a slideshow movie created easily from your own photos. Enjoy your original disc creation with menus which you can create by using pre-installed templates, or by creating your own custom layout design.

* 1 the maximum number of streams varies depending on the output format.
* To create a BDAV format disc, use our TMPGEnc MPEG Smart Renderer 6 application.
---
---
Smart Rendering Function - Implements Ultra-Fast and Excellent Picture Quality Output.
What makes it high quality? Exports losslessly other than Cut and Connected ranges.
How is high speed output possible? Unchanged video parts are not re-encoded.
TMPGEnc Authoring Works 6 features the "Smart Rendering" output function. Smart rendering has the ability to analyze a video file and re-encode only the parts that have been changed, such as cut/split/join points and sections where transitions or other effects have been added. Parts of the video that have not changed are not re-encoded.
Besides taking a long time, re-encoding changes the video/audio data; this can cause differences in quality depending on the encoder and the output settings. Thus, it is typically a best practice to keep the original data unchanged as much as possible to maintain the original quality and avoid degradation.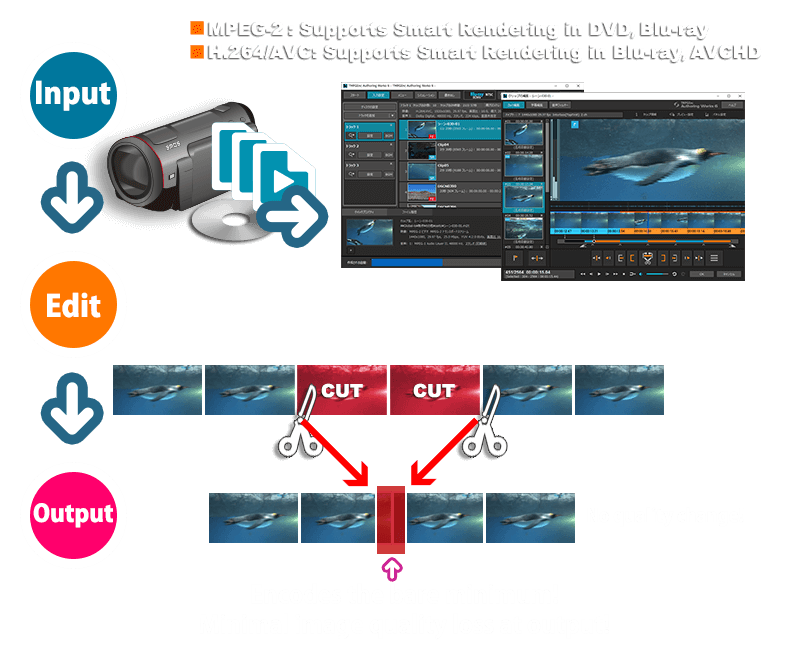 The smart rendering function requires that the imported file must conform to the output format standard.
---
File Connecting - Ultra Fast and High Quality.
TMPGEnc Authoring Works 6's smart rendering function supports not only cut ranges but also where files are connected. This allows you to join multiple files which are recorded by a digital camcorder or smartphone into one file.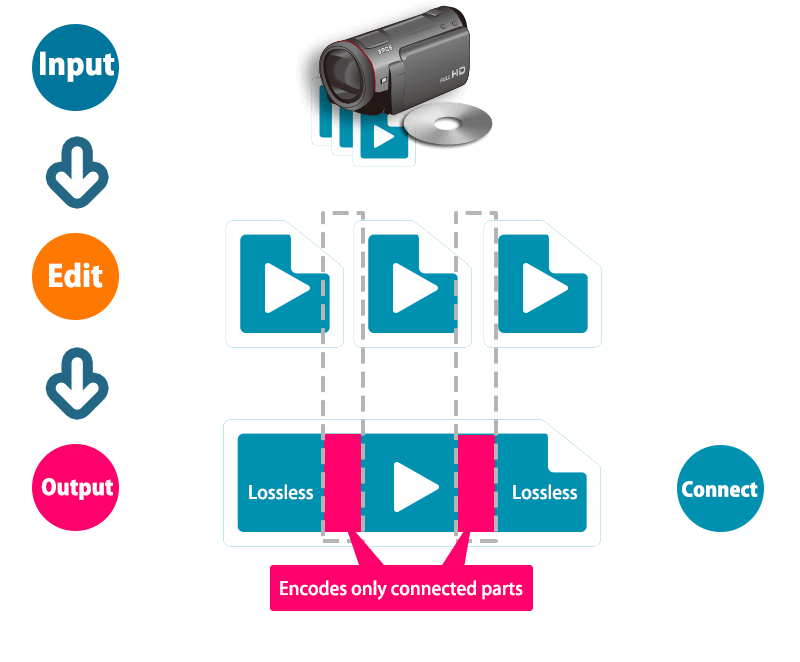 Encodes in High Quality
Even for Non-Smart Renderable Videos.

Simply put, no smart rendering problems will occur when importing files which do not conform to the target format, or importing multiple clips that have different parameters (such as resolution). In such cases, TMPGEnc Authoring Works 6 can join and output in high quality using the integrated high quality video encoder.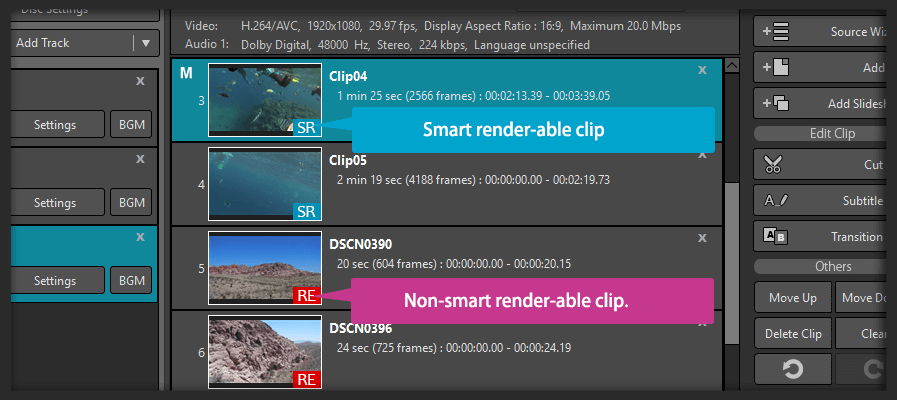 ---
For smart rendering output, the quality of the encoding engine is held as one of most important elements. If the quality is low, then the low quality encoded parts will stand out on video playback, thus reducing the whole quality of the video. That is why TMPGEnc Authoring Works 6 integrates the best encoders which results in the best quality output video.
MPEG-1/2

Incorporates our original encoder used in the TMPGEnc series and is known the world over as one of the best MPEG-1/2 encoders.

H.264/AVC

Incorporates the world renowned x264 encoding engine. Widely adopted as the H.264 encoder of choice for sites such as Facebook and YouTube.
---
Native Support for 64-bit Architecture.
This version is designed only for 64-bit architecture environments. Along with this enhancement, the application is capable of using an outstandingly large memory size. Therefore, editing operations that contain ultra HD (4k / 8k) editing, complex filtering, file importation, video rendering, clip copying, etc. become much easier and lighter to handle.
*This application does not support 32-bit OS environments.
---
TMPGEnc Authoring Works 6 natively supports a wide variety of time-tested and recent formats such as MPEG-1/2, H.264/AVC, AVI, WMV, MOV, GoPro recorded files, and more. You practically don't even need to install external CODECs; you can edit without needing any knowledge of these formats. Furthermore, you can select a specific import title clip within a Blu-ray (BDMV/BDAV), AVCHD or TS file, and by using the thumbnail preview, you can verify the content beforehand and avoid any mistakes.
"6" supports the following new formats and functions.
Now supports importing the H.265/HEVC format which is the successor to H.264/AVC and is the latest video compression standard.
Now supports importing MXF containers, which are mainly used in the professional market. TMPGEnc Authoring Works 6 can also analyze and let you choose a multi-structured video file, and lets you edit the audio channel map, thus you can import video and audio streams incorporated with an MXF container without any difficulties.
Supports directly importing ISO Files, allowing you to import an ISO file without mounting it. Just drag and drop or use the import wizard!

* The Windows 7 environment requires ImDisk Virtual Disk Driver which is packaged with the application.
* Only supports DVD-video, Blu-ray, and AVCHD authoring data. A general MPEG file is not supported.
ImDisk Virtual Disk Driver: Copyright © 2004-2015 Olof Lagerkvist. http://www.ltr-data.se/opencode.html#ImDisk
TMPGEnc Authoring Works 6 is capable of importing the H.264/AVC High Intra 4:4:4 profile. There is no need to encode and prepare files in advance before you start editing.
Supports importing and directly editing using the high quality video 4K/HD video format "XAVC S" which is advocated by Sony and capable of storing high resolution and high bitrate videos compared to the AVCHD standard.

Supports WebM and Ogg (Video: Theora Audio: Vorbis) input. Both are open source video formats and focus on high quality video with low file sizes, and are mainly used for playing on Android devices (WebM) and Web browsers.      

Supports animated GIF importation, allowing you to use an animated GIF file as an editable video clip.
    
---
Improved Editing Functions and Interface.
Cutting & Adding Subtitles; Implement the Fastest Editing Workflow.
TMPGEnc Authoring Works 6 reduces complicated processes and procedures, and provides an incredible interface which is capable of cutting, adding subtitles, editing audio and reaching the output in the quickest time by adhering to a simple workflow.
In TMPGEnc Authoring Works 6, it is possible to convert the current output format in real-time to another format even if the project is in the middle of editing. Even if you start editing a project with the wrong output format, you can change the project to the correct output format right away while keeping the current editing status.*

* There is a possibility that the settings of a converted project may be changed considerably depending on the destination output format.
In older versions, once you move to a specific editing stage, you can't restore a previous operation, which can cause problems and stress. This version is enhanced in order to keep the editing history between almost all stages, which allows you to edit without any anxiety about losing the editing history.
Easy and Convenient Clip Input
This function analyzes a file at importation and allows you to select a specific import title clip within a Blu-ray, AVCHD file, etc. Regarding a MPEG-2 TS or MXF file, the function analyzes and lets you choose a multi-structured video file (containing several video and audio streams) or video where the resolution changes mid-flow. TMPGEnc Authoring Works 6 allows you to use the analyzer for a file even if you did not choose to analyze it when importing.

* Encrypted or copy-protected files cannot be imported.
* Subtitles cannot be imported other than ISDB standard subtitles.
The software newly features the "Quick Properties" panel in the clip setting window, which allows you to verify the video and audio overview of a selected clip without launching the clip editing window. Also, you can change the aspect ratio and the channel mode.

TMPGEnc Authoring Works 6 allows you to share clips by dragging and dropping between applications. For example, you can work on several projects all at once, which can speed up your work compared to working with the old versions.

In TMPGEnc Authoring Works 6, you can create a QR code clip automatically simply by inputting any text. You can use the QR code clip for various purposes such as introducing your web site, or recording the information of a video. The QR code clip can also be added as subtitles or menu items.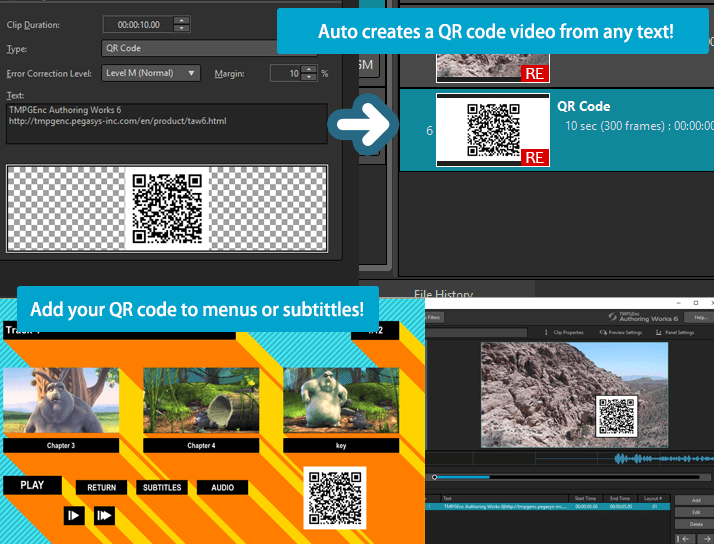 ---
Newly Evolved Cut Editing Interface - Easier to Use, Presice and Quick.
When simply cutting a video, not displaying and cutting the correct position would turn your hard work into a waste of time. The Cut Edit window, which is the core of TMPGEnc Authoring Works 6, brings you presice results because of our developed skills and experience. We've reworked the internal processing of the editing window and it has been enhanced with functions to support 4K and 8K high-definition editing.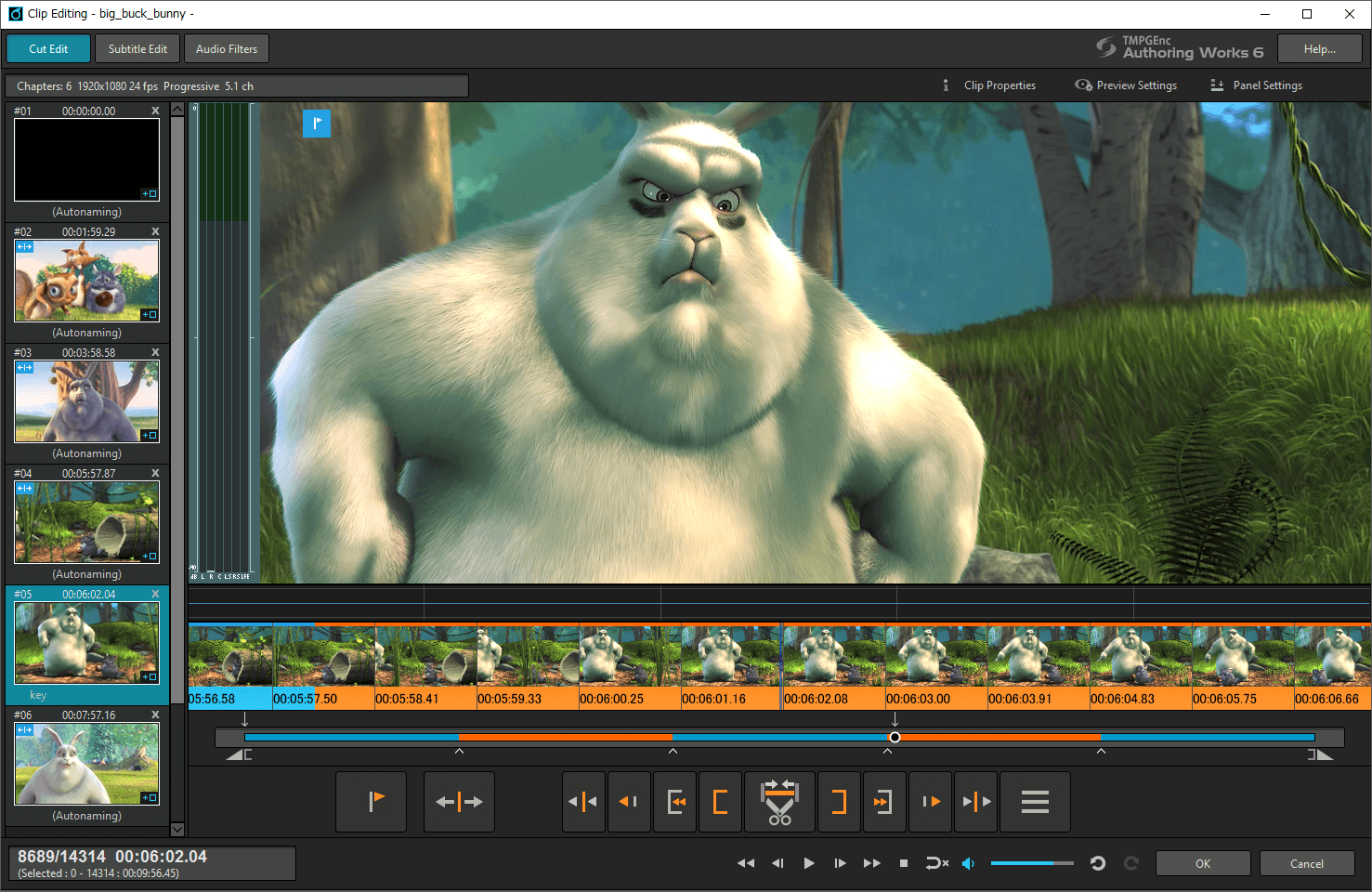 source movie: © copyright 2008, Blender Foundation | www.bigbuckbunny.org
No Left-Over Parts. "Frame Level Editing".
A single frame is the smallest unit of a video. TMPGEnc Authoring Works 6 can edit at the frame level, so the frames you cut are the exact frames that will be removed upon output. Other products cut at the GOP (Group of Pictures) level, so cuts in those products can actually remove more frames than you want. Frame level editing also helps minimize re-encoding during smart rendering output.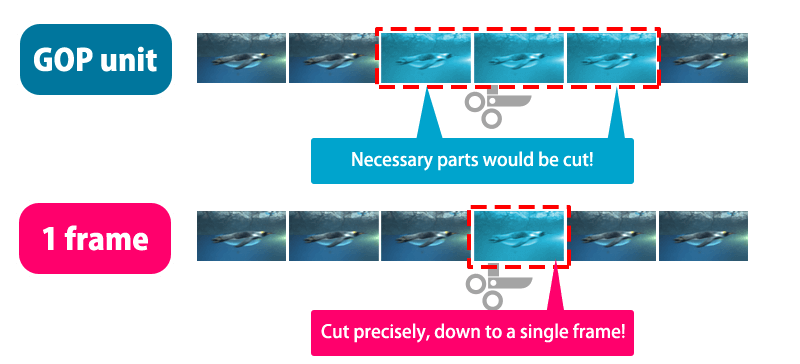 Clip Editing Functionality For High Speed Editing.
You can search any scene quickly simply by clicking the right mouse button while viewing the quick-scrolling thumbnail strip. Clicking on the middle mouse button activates Smart Scene Search, which automatically moves the playhead to the closest scene change.

When you cut in the previous versions of TMPGEnc Authoring Works series, you had to set the Start and End points and then press the Cut button. We figured that if you already determined the End (or Start) point, the action of pressing the Cut button is superfluous. So in this version, we created a "Quick Cut" function that can cut the specified range immediately by holding the [CTRL] key when clicking the End (or Start) point button.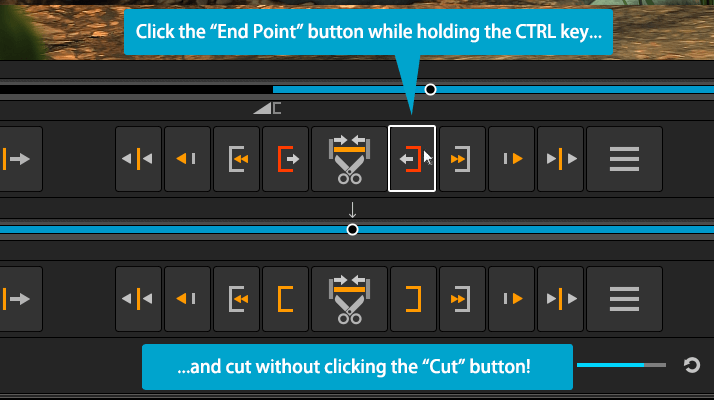 source movie: © copyright 2008, Blender Foundation | www.bigbuckbunny.org
The Preview panel of TMPGEnc Authoring Works 6 allows you to zoom-in, zoom-out and even drag and reposition the preview image to your liking. This allows you to examine fine details in your video in real-time while playing.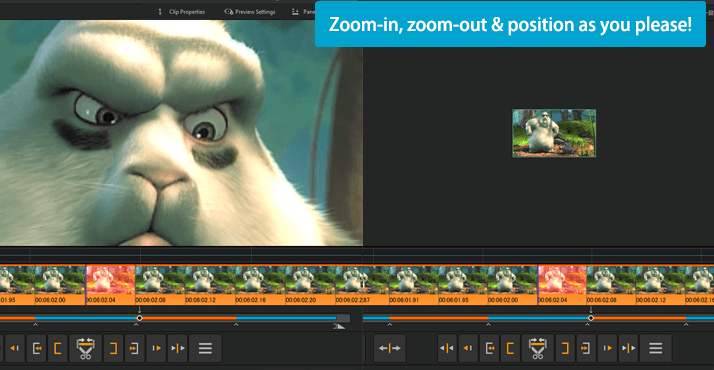 source movie: © copyright 2008, Blender Foundation | www.bigbuckbunny.org
Both NVIDIA® CUDA™ technology and the Intel® Media SDK are supported for hardware video decoding. CUDA technology uses the GPU's (graphic card CPU) multiple core parallel processing to solve complex problems in a short amount of time. By splitting many processes into multiple elements and parallelizing them, and using the GPU's massive processing power, programs can run more efficiently.
The Intel Media SDK utilizes the power of Intel Quick Sync Video included in the second generation Intel Core™ processors to assist the decoding process. In a compatible environment, TMPGEnc Authoring Works 6 supports H.265/HEVC hardware decoding of those functions.
* Acceleration cannot be guaranteed in all environments.
* Hardware encoder may not be used when Smart Rendering and Full Rendering files coexist within the same track.
* Hardware encoder is not used when a track contains exclusively Smart Rendering files. However, it is used for the menu encode.
* Requires a compatible environment.
With TMPGEnc Authoring Works 6 and a supported Advanced Micro Devices' graphics card environment, you can utilize its H.264/AVC hardware decoder functions. In the supported environment, it allows you to edit with faster and smoother video playback due to its high speed decoding.
* Acceleration cannot be guaranteed in all environments.
* Requires a compatible environment.
---
Improved Subtitles Editing for The Best Experience.
Adding subtitles requires searching arbitrary positions and adjusting the displayed positions, which can take a lot of time. The subtitles editing interface in TMPGEnc Authoring Works 6 has been improved with new features to make editing subititles faster and easier.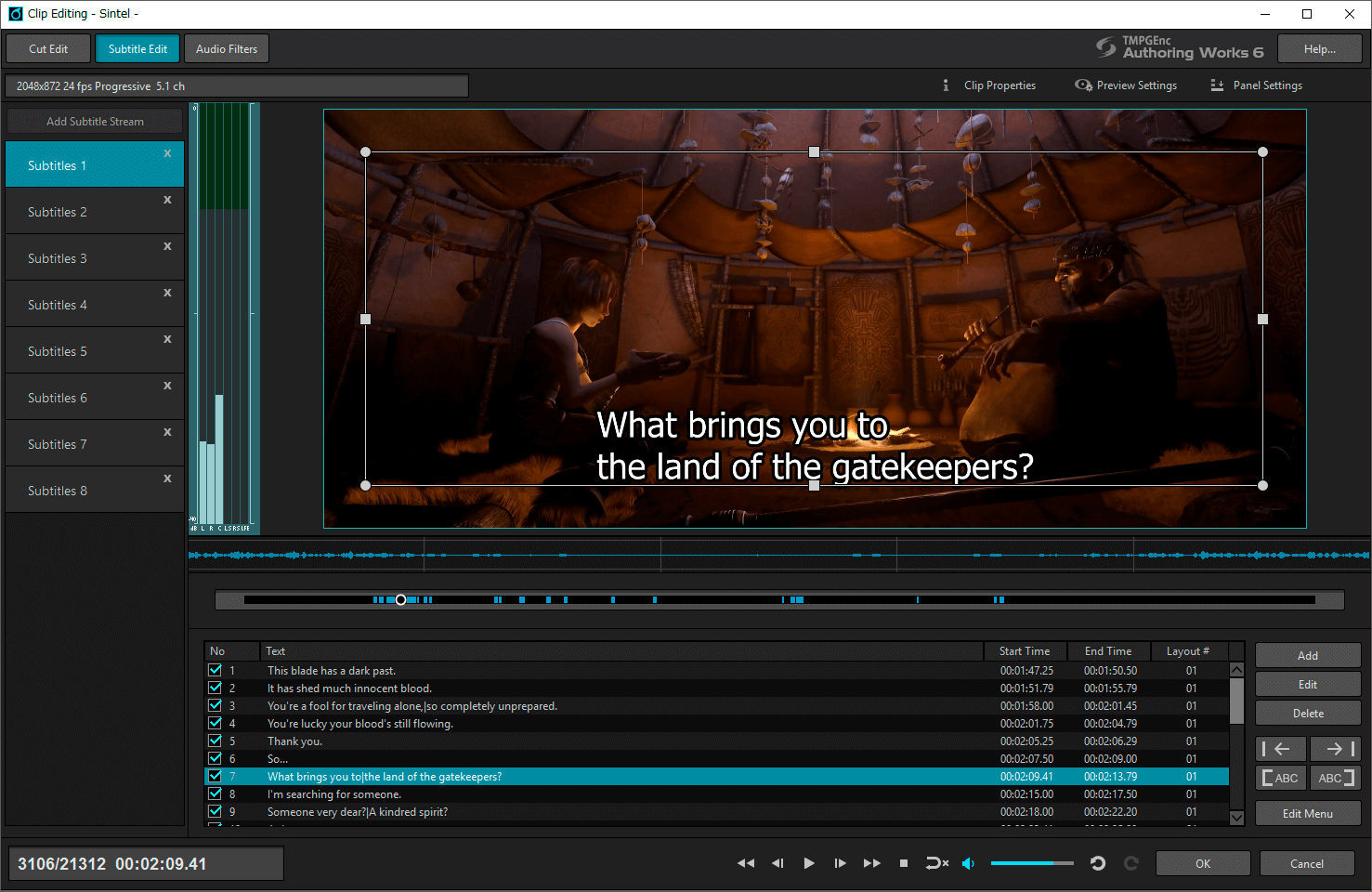 source movie: © copyright Blender Foundation | www.sintel.org
TMPGEnc Authoring Works 6 allows you to add up to eight closed caption or subtitle streams (such as from a DVD / Blu-ray, etc.), and up to four audio streams. Imported subtitles data can be outputted directly into a DVD or Blu-ray as they are. Of course you can add another subtitle to the imported subtitle data, then output them.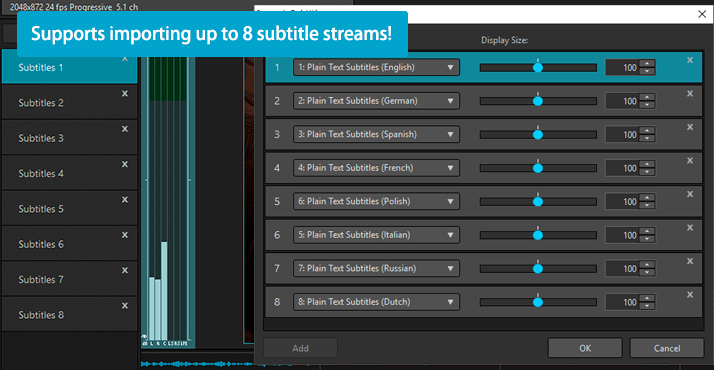 In the old versions, the subtitles position would be set within the pre-determined layout settings. In TMPGEnc Authoring Works 6, you can place the subtitles positon freely to anywhere you'd like. Since the position can be set for each subtitles text unit, this feature expands the flexibility of the layout.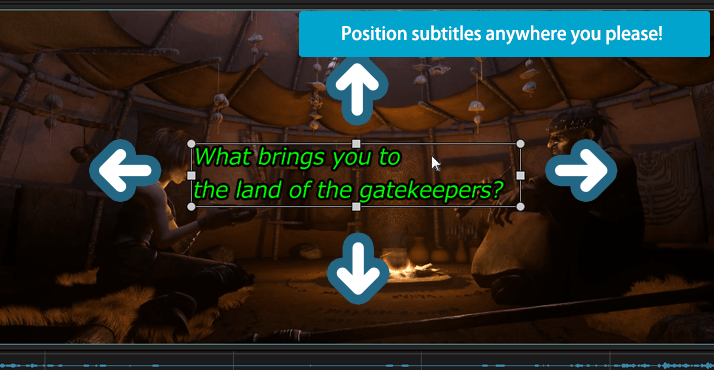 source movie: © copyright Blender Foundation | www.sintel.org
TMPGEnc Authoring Works 6 allows you to select multiple subtitles texts at once. Hence, it improves the efficiency of the editing substantially.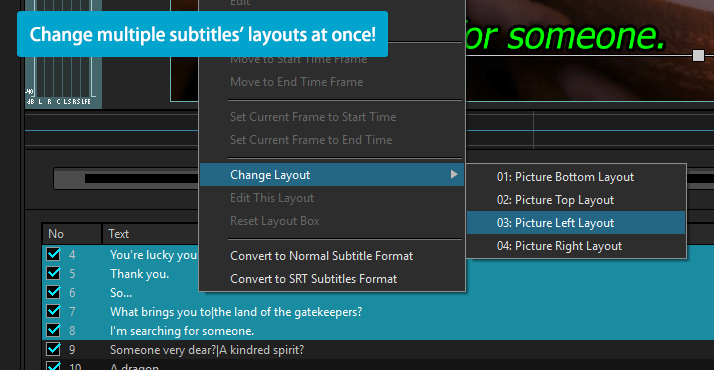 In the Blu-ray (BDMV) output format, you can add pictures as subtitles. It is possible to combine them with text subtitles, so you can display a graph at a certain time, or use a picture as a watermark.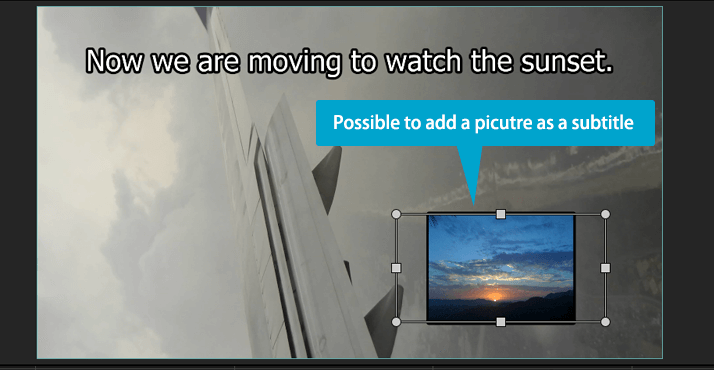 TMPGEnc Authoring Works 6's subtitle function now supports ruby characters which can be added easily by specifying a simple tag (ruby characters are typically used for Chinese or Japanese text which aid in pronunciation of uncommon characters, but you can use it for translations as well). Furthermore, by using the tag, you can specify the font family or the size of the inserted subtitle text. In addition to the standard tag, you can use the SRT subtitles tag.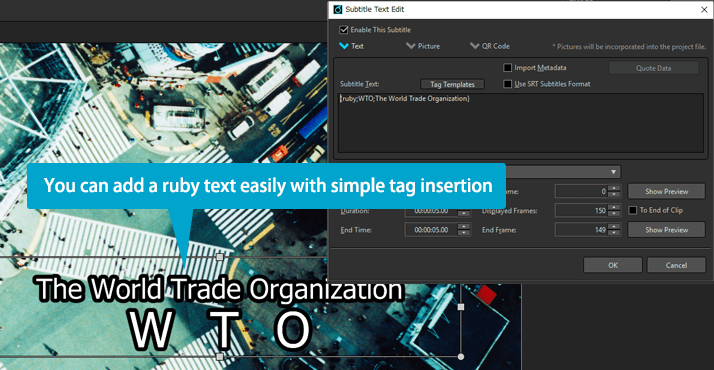 ---
Determine the Flow of Your Video.
Track and Content Settings.
One of the most important things in media authoring is how the edited content will be played back. TMPGEnc Authoring Works 6 employs an editing interface which makes easy to visually understand the flow of the currently edited clips and tracks, and then allows rapidly linking your content with the Menu editing. Also, it is possible to set more detailed Track and Content settings depending on your skill level.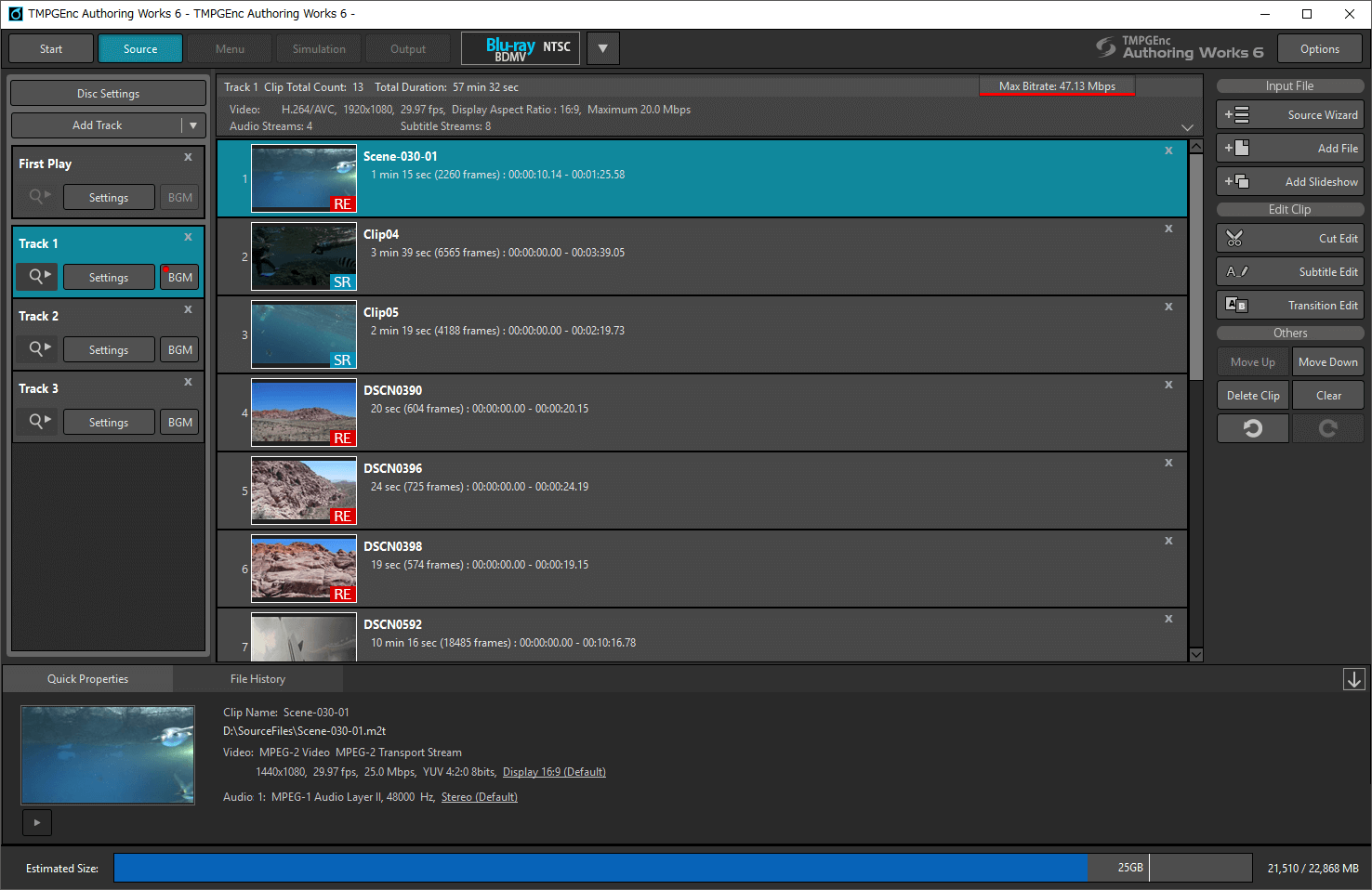 In TMPGEnc Authoring Works 6, the "Track BGM Edit function" is newly installed, which allows you to put background audio streams on a track freely. Since you can edit background audio placing on the timeline-styled editor window, it is capable of placing and editing while recognizing each audio clip's location visually. And with the Narration Recorder function also installed, you can create even more highly original content.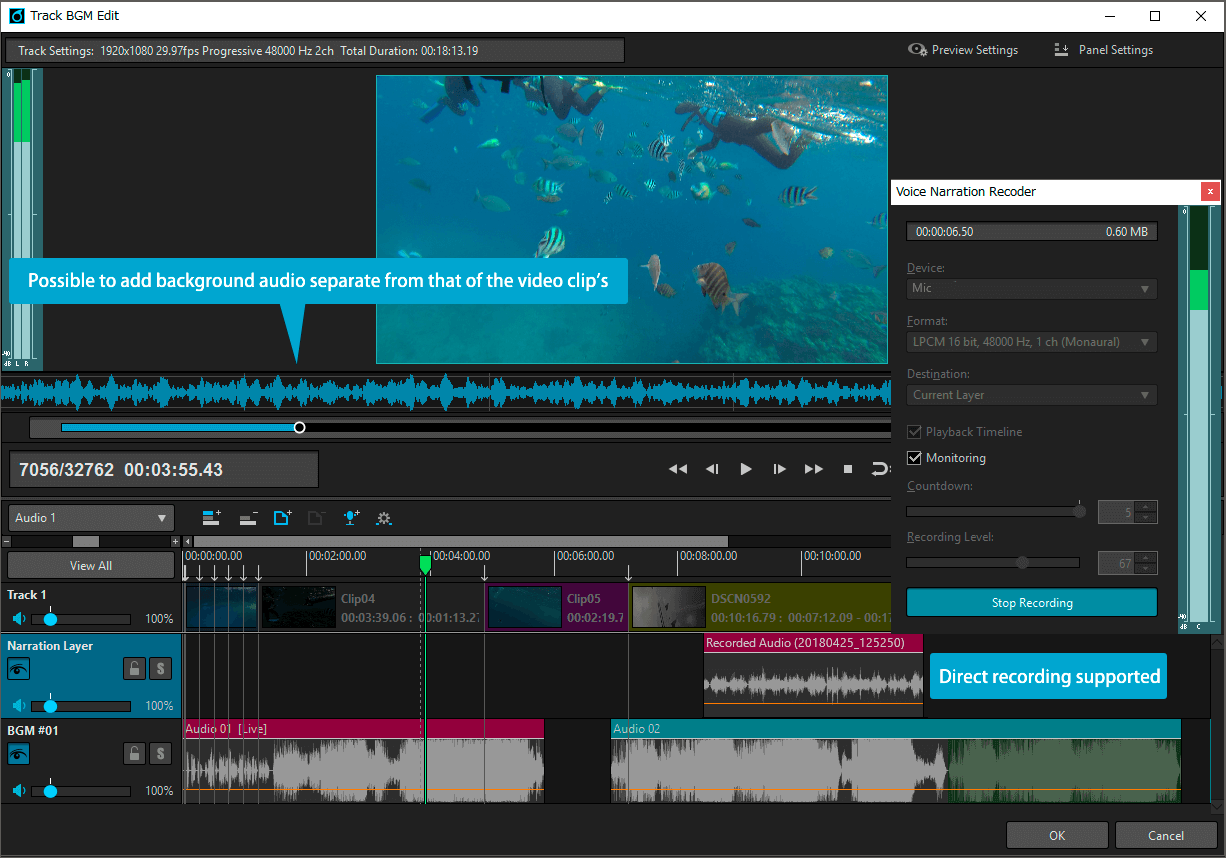 The "First Play" track will be played automatically once you insert your DVD or Blu-ray disc into your player. Since this track plays even before the menu displays, you can use it to include an introduction video, a concept video, sponsorship logos, or anything else you can think of.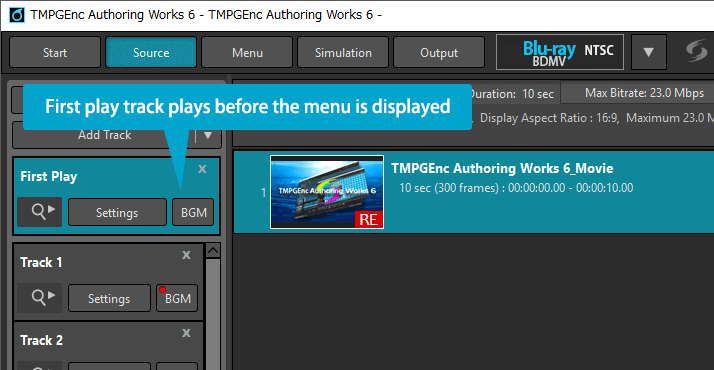 TMPGEnc Authoring Works 6 will set the video and audio output parameters automatically, but if you want to, you can access enhanced, detailed settings for more advanced output control for each track.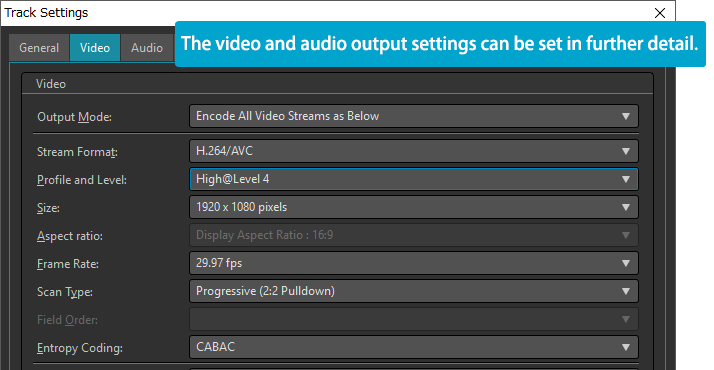 In older versions, if you wanted several tracks to have the same settings, you had to setup each track individually. In this version, you only need to set the track settings once and then copy and paste the settings to the desired tracks. Furthermore, you can copy and paste the track itself as a new track to easily duplicate tracks.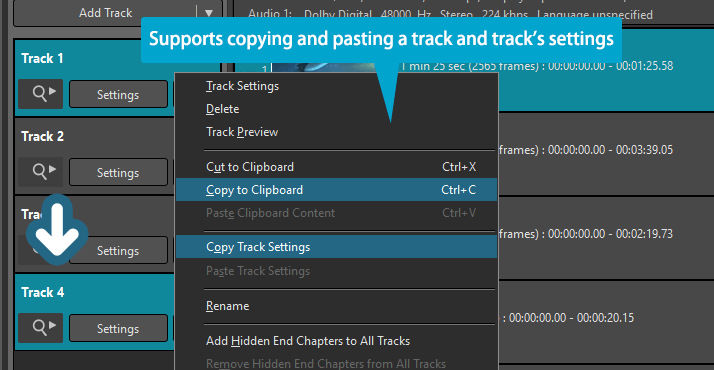 Now supports setting a "Parental Control" when outputting a Blu-ray or DVD disc. You can use it to control the permission to play in response to the rating set in the player. In the Blu-ray output, it is possible to replace the warning image with any image that you want to display.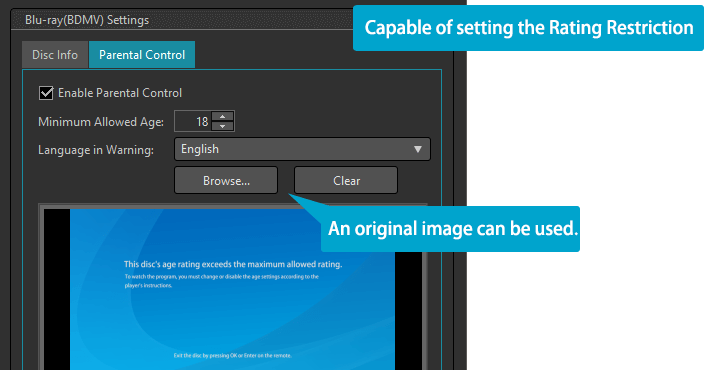 * The parental control settings cannot work on a player or playback device which does not support the Parental Control function.