Pegasys Inc. Announces the Next Generation MPEG Video Editor - TMPGEnc MPEG Smart Renderer 4
The Successor to TMPGEnc MPEG Editor 3 Is Completely Rebuilt With H.264/MPEG-4 AVC Smart Rendering Plus Other New Features
October 23, 2012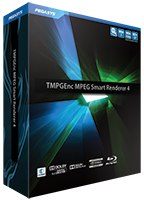 Huntington Beach, Calif. - October 23, 2012 -
Pegasys Inc., the company that takes video to the next level, announces the release of the English version of their next generation MPEG video editing software, TMPGEnc MPEG Smart Renderer 4, on October 30, 2012. The software is the successor to the popular TMPGEnc MPEG Editor 3, built from the ground up and touts the ability to smart render (lossless edit) practically any MPEG-1, MPEG-2 or H.264/MPEG-4 AVC file and edit at the frame level. The retail price will be $69.95. A free upgrade option will be available for those who purchase TMPGEnc MPEG Editor 3 between October 23, 2012 and October 29, 2012 11:59PM PDT. After that, the upgrade price will be $43.95. A free 14-day trial version is available now for evaluation purposes at the following webpage: https://tmpgenc.pegasys-inc.com/en/product/tmsr4.html

"Cloud storage, mobile devices and the affordability of storage media have made a wider variety of MPEG specifications possible; therefore, this software is the first in a brand new product category focusing on keeping video data as is no matter what the source, as opposed to our past focus on smart rendering DVD and Blu-ray formats. This software is the ultimate tool for editing practically any MPEG-1/2 or H.264/MPEG-4 AVC video with as little re-encoding as possible. " commented Tak Ebine, Pegasys CEO.

TMPGEnc MPEG Smart Renderer 4 allows users to import a wide variety of MPEG file formats and container types, then losslessly edit the files at the frame-level for fast, precise and high-quality output. Besides standard MPEG-1, MPEG-2, and MPEG-4 AVC/H.264 video, container formats such as TS, MKV, FLV and MOV are also supported. DVD-Video, Blu-ray and AVCHD video files can also be easily imported with the help of an import wizard. Audio-wise, MP2, MP3, AC3 (Dolby Digital), EC3 (Dolby Digital Plus), WAV, AAC, HE-AAC, and FLAC formats can be imported.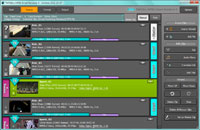 The greatest innovation is the new Smart Rendering engine. Smart Rendering allows MPEG video to be edited, split, and joined with minimal re-encoding at output. This results in extremely fast output and little to no quality loss since unedited parts of the video are not changed in any way.

An all-new feature of the Smart Rendering engine allows users to set their own master specifications. In previous versions, Smart Rendering was limited to known standards such as DVD-Video and Blu-ray Disc. The ability to set any MPEG file as a Master Clip allows any MPEG file to be Smart Renderable. The Master Clip can also be used to re-encode other MPEG video clips to the Master Clip's specifications; this is useful for encoding video for devices such as smartphones, where the video specifications are not always well documented--all the user needs is a video clip known to work on the device.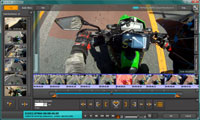 The included cut editor is built with editing HD videos in mind; users can easily customize the interface to allow better viewing of HD video. Editing controls and panels can be minimized or resized, and the video preview can be zoomed-in and scrollable so every detail can be seen, even on the smallest monitors.

Editing features include the ability to cut out unwanted portions of a video clip, split a clip into multiple clips, add keyframes, create transition effects and apply audio filters.

Other features include input and Smart Rendering support for the popular GoPro HD (HERO/HERO2) and Contour video cameras, H.264/MPEG-4 AVC encoding using the world-renowned x264 encoder, Blu-ray BDAV authoring, and much more.
Notable New Features:

New Input Features:
MP4, TS, MKV, FLV and MOV container support for H.264/MPEG-4 encoded video.

MKV container support for MPEG-2 and H.264 video.

Rescue function that allows importing a mix of different video formats and sizes. *Rescue files will be re-encoded.

Auto mode automatically determines how much of the video can be smart rendered depending on the input file.

Import Blu-ray or AVCHD video files by title (VC-1 format not supported).

MPEG-2 TS analysis function identifies multi-stream video such as mixed-resolution video streams.

Supports input of up to 8 audio streams.

Target Indicator allows you to check possible output formats in advance.

Instant Quick Preview allows you to check a video's contents without opening the clip editor.

Dolby Digital Plus audio support. *Dobly Digital Plus audio will be treated (or processed) as Dolby Digital audio by the program.
New Editing Features:
Undo/Redo option in almost all editing windows.

Integrates our advanced Intuitive Draw Technology for fast preview rendering. CUDA decoder / Intel Media decoder compatible.

Improved preview screen allows full-screen preview, zoom, position and other settings perfect for viewing and examining HD material.

Minimize editing controls that you don't need.

Increased detail and editability for the Clip Information panel.

Add audio streams and select between various configurations. *Up to 8 audio streams can be added.

Batch cut feature for multiple selections.

Display scaling adjusts the button sizes to the display size of the edit screen.

Add and edit text overlays.

Add monochromatic clips.

Add transition effects, including 3D transitions.
New Output Features:
Supports H.264/MPEG-4 AVC smart rendering.

Supports smart rendering of AAC audio.

FLAC audio format output support.

Output support for BDMV/BDAV MPEG files for Blu-ray.

Supports MPEG file output for AVCHD.

Supports H.264/MPEG-4 AVC BDAV authoring.

Supports writing an Appendix for BDAV authoring.

Uses the x264 encoder for (part of) H.264/MPEG-4 AVC re-encoding.

GoPro HD (HERO/HERO2) smart rendering output support (non-standard resolutions not supported).
Other New Features:
Supports "regular output function", which allows outputting a file automatically by parameters set in advance.

Access the Start-up Launcher Tools from any stage in the main window.

Plus other new features!
See the technical specifications and system requirements at the following webpage:
https://tmpgenc.pegasys-inc.com/en/product/tmsr4_spec.html
For more information, visit the TMPGEnc MPEG Smart Renderer 4 webpage:
https://tmpgenc.pegasys-inc.com/en/product/tmsr4.html

About PEGASYS Inc.
PEGASYS Inc. takes video to the next level. Headquartered in Tokyo, Japan, PEGASYS was established in November 2001 with the release of TMPGEnc Plus -- probably the world's most popular MPEG-1/2 video encoding software and at the time, was the only freeware video encoder. The company's two flagship products, the TMPGEnc Video Mastering Works 5 video encoder and TMPGEnc Authoring Works 5, anchor a strong line of retail and OEM digital video editing and encoding products for home and professional users.

The recognized leaders in developing quality video encoding tools for MPEG applications, PEGASYS Inc.'s encoding technology is also incorporated into numerous commercial and professional video editing and DVD-creation software products. PEGASYS have been bundled with quality products from top worldwide manufacturers, including Sony Japan and Pioneer. For information about PEGASYS Inc. and its products, visit www.pegasys-inc.com

© 2012 PEGASYS Inc. All rights reserved. Specifications are subject to change without notice. All other trademarks are the property of their respective companies.
---