TMPGEnc Movie Plug-in AVC for EDIUS Pro 9
---
TMPGEnc Movie Plug-in AVC for EDIUS Pro 9 is a plug-in for Grass Valley's EDIUS Pro 9 that adds the H.264/MPEG-4 AVC output functions found in our products such as our TMPGEnc Video Mastering Works series. Using the renowned x264 engine as the main encoder, the plug-in provides high-quality and high-speed exporting by combining Pegasys' proprietary technology with the x264 encoder's functions and numerous detailed parameters. Hardware encoding is also an option if Intel® Media SDK (Quick Sync Video) hardware is present.
By adding this Plug-in to your EDIUS station, you can use it to access the detailed settings of the encoder engine used in Pegasys' products. From the file output, you can now choose from a container such as MP4, TS or MKV, or generate Elementary streams containing video along with Dolby Digital or MPEG-2 AAC audio. In addition to the manual settings, you can also choose preset templates for Blu-ray video, AVCHD, mobile device or other file output. Even without any technical knowledge, you can generate standard compliant video just by selecting a template.

The centralized settings screen gives you detailed access to alter your output settings. Configure stream type, GOP structure, quantization matrix, color space and set your level up to 6.2, the profile corresponding to 8k resolution (8192×4352). Detailed settings for H.264/AVC has common options organized in one tab for quickly accessing standard output settings. Since many of settings have a high degree of freedom and adjustability, the related items will dynamically change while keeping its parameters in correspondence with the selected video standard. Therefore, you won't output a non-standard file unknowingly, allowing you to utilize the wide variety of settings without worry.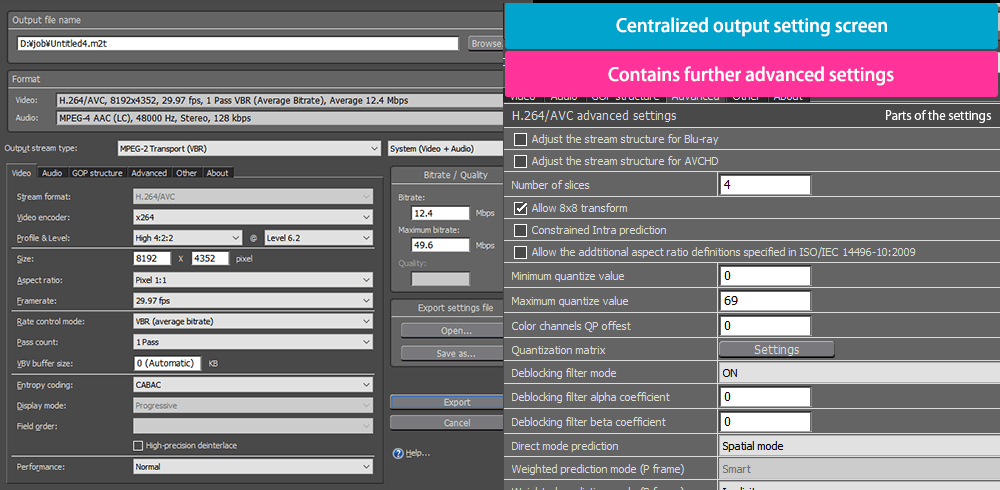 TMPGEnc Movie Plug-in AVC for EDIUS Pro 9 supports outputting in HDR (High Dynamic Range)*. This allows you to output edited content in the HDR color space of EDIUS' project settings as is. Also, the plug-in supports metadata output for the Chromaticity Coordinate, max and min luminance, MAXCLL and MaxFALL of the target (master) monitor.
* PQ and HLG supported. (Ver.1.2.0.5 or later)

This plug-in uses the world renowned x264 H.264/AVC encoder, which is the same encoder used for our high-quality encoding engines in other Pegasys products, and is also used by such websites as Facebook and YouTube for their video encoding functions. It is equipped with preset templates that make it easy to encode based on quality or speed, or you can set your own custom encoding settings in the GUI. Combining the Pegasys proprietary technology with the x264 high quality functions and numerous detailed parameters, we provide the user with the highest quality.

The plug-in features an audio encoder that supports a variety of audio formats commonly associated with the H.264/AVC format such as AAC, MP3 and Dolby Digital. Other formats include MP2, Linear PCM and FLAC*. As with our commitment to quality video encoding, we utilize the Fraunhofer IIS audio encoder for high-quality AAC audio output.
*MKV container output only.

In addition to the H.264/AVC output configurations, output templates for Blu-ray Disc (BDMV / BDAV), AVCHD, mobile devices such as the iPhone and YouTube are available for easy encoding. Simply select the proper template and your project will encode to the proper standards and specifications for the target format. The templates allow you to encode for a specific format or device with confidence and save you time from creating a custom output template. You can also output keyframe markers as chapter points, usable during playback on devices such as the iPhone or iPad.

Computers equipped with second generation or later Intel® Core™ processors with Intel Media SDK (Quick Sync Video) can utilize it for hardware H.264/AVC encoding.
* Intel Media SDK Hardware encoding fewature requires a compatible environment
* Intel Media SDK Software encoder is not supported.

Download the free 14-day trial and test out the software for yourself!
System Requirements
Computer
IBM PC/AT compatible
Operating System
Same as EDIUS Pro 9.
CPU
Same as EDIUS Pro 9.
RAM
Same as EDIUS Pro 9.
HDD space
About 40 MB + database
Screen Resolution
Same as EDIUS Pro 9.
Other
・ Environment where Grass Valley EDIUS Pro 9 is installed.
・Access to the Internet required for periodic online license validation and software update.
・In order to use the Intel Media SDK Hardware encoder, a PC with a corresponding CPU is required.

Attention
Use of this product requires periodic activation via an Internet connection.
This product does not have the following functions.
SpursEngine output function
System stream MPEG-2 Program (VBR) output
Intel Media SDK Software encoding function
Low path filter on the chrominance channels

Copyright Information:
TMPGEnc and the TE symbol are registered trademarks of Pegasys Inc.
EDIUS is a registered trademark of Grass Valley Co., Ltd.
Microsoft, Windows are registered trademarks of Microsoft Corporation for the United States of America and other countries.
Dolby and the double-D symbol are trademarks of Dolby Laboratories.
Confidential unpublished works. Copyright 1992-2005 Dolby Laboratories. All rights reserved.
FLAC - Free Lossless Audio Codec: Copyright© 2000-2009 Josh Coalson Copyright© 2011-2013 Xiph.Org Foundation
xbyak - Copyright© 2007 MITSUNARI Shigeo. All rights reserved.
Mersenne Twister - Copyright© 1997 - 2002, Makoto Matsumoto and Takuji Nishimura, All rights reserved.
zlib - Copyright© 1995-2013 Jean-loup Gailly and Mark Adler
All other marks, product names, and company names are property of their respective owner.