TMPGEnc Movie Plug-in MPEG-2 for EDIUS Pro 9
---
High-Quality MPEG-2 Encoding Within EDIUS Pro 9.
High-Quality MPEG-2 Encoding Within EDIUS Pro 9.
TMPGEnc Movie Plug-in MPEG-2 for EDIUS Pro 9 is a plug-in that brings Pegasys Inc.'s MPEG encoder functions to Grass Valley EDIUS Pro 9. Our original Encoding Engine's high quality MPEG-2 encodes are praised not only by consumer users, but also by computer game and CG animation makers, making it the trademark of the TMPGEnc series.


---
Add TMPGEnc MPEG Endoding to EDIUS
Add TMPGEnc MPEG Endoding to EDIUS
By adding this Plug-in to your EDIUS station, you can use it to access the detailed settings of the MPEG-1/2 encoder engine used in Pegasys' products. From the file output, you can now generate Elementary streams containing video along with Dolby Digital or MPEG-2 AAC audio. In addition to the manual settings, you can also choose preset templates for DVD-Video, Blu-ray video, and HDV MPEG file output. Even without any technical knowledge, you can generate standard compliant video just by selecting a template.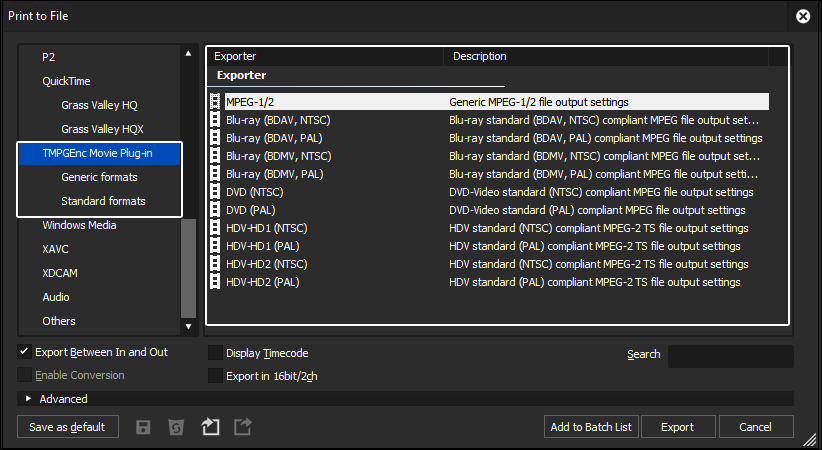 Video Settings
Video Settings

You can set the profile up to MP@HL with a resolution of 1920x1080. You can also change the aspect ratio or framerate settings. Moreover, you can choose the display mode between Interlace or Progressive, and also Inverse 3:2 pulldown.

Video Quality Settings
Video Quality Settings

In VBR mode, you can choose one or two passes, allowing you to finely control the bitrate.

Audio Settings
Audio Settings

You can choose the audio format among Linear PCM, MP2, Dolby Digital, AAC, MP3 or FLAC. Linear PCM, Dolby Digital, AAC and FLAC support maximum up to 5.1 channel output.

GOP Structure Settings
GOP Structure Settings

Here, you can set the GOP sequence. Set the maximum number of frames and the number of B frames and the P frames sets automatically. You can even set a closed GOP for easier editing in the future or for compliance purposes.

Quantization Settings
Quantization Settings
You can use one of the built-in templates, MPEG Standard or CG/anime, according to your needs. Of course, you can also arbitrarily change the settings.

Advanced Settings
Advanced Settings
Last but not least, you can select between PAL or NTSC, set the YUV colorspace and much more. When outputting in MPEG-TS, you can even set a timestamped 192 packet format.

---
System Requirements
Computer
IBM PC/AT compatible
Operating System
Same as EDIUS Pro 9.
CPU
Same as EDIUS Pro 9.
RAM
Same as EDIUS Pro 9.
HDD space
About 40 MB + database
Screen Resolution
Same as EDIUS Pro 9.
Other
・ Environment where

Grass Valley EDIUS Pro 9

is installed.
・Access to the Internet required for periodic online license validation and software update.


Attention
Use of this product requires periodic activation via an Internet connection.
This product does not have the following functions.
SpursEngine output function
MPEG-1 Video-CD, MPEG-2 Super Video-CD output templates
Low path filter on the chrominance channels

Copyright Information:
TMPGEnc and the TE symbol are registered trademarks of Pegasys Inc.
EDIUS is a registered trademark of Grass Valley Co., Ltd.
Microsoft, Windows are registered trademarks of Microsoft Corporation for the United States of America and other countries.
Dolby and the double-D symbol are trademarks of Dolby Laboratories.
Confidential unpublished works. Copyright 1992-2005 Dolby Laboratories. All rights reserved.
xbyak - Copyright© 2007 MITSUNARI Shigeo. All rights reserved.
Mersenne Twister - Copyright© 1997 - 2002, Makoto Matsumoto and Takuji Nishimura, All rights reserved.
zlib - Copyright© 1995-2013 Jean-loup Gailly and Mark Adler
All other marks, product names, and company names are property of their respective owner.