TMPGEnc Movie Plug-in MPEG-2 for EDIUS Pro 7
Thank you for your continued support of Pegasys products.

Sale of TMPGEnc Movie Plug-in MPEG-2 for EDIUS Pro 7 has ended.
---
TMPGEnc Movie Plug-in MPEG-2 for EDIUS Pro 7 is a plug-in that brings Pegasys Inc.'s MPEG encoder functions to Grass Valley EDIUS Pro 7. Our original Encoding Engine's high quality MPEG-1 and MPEG-2 encodes are praised not only by consumer users, but also by computer game and CG animation makers, making it the trademark of the TMPGEnc series.

In addition, on a PC equipped with a SpursEngine™ device, MPEG-2 hardware encoding which is installed on the processor is possible. SpursEngine was developed by Toshiba Co., Ltd., and is a co-processor (an auxiliary processor that works with the host CPU) that excels in media streaming processing (image processing, image recognition, and other real-time video processing). It features four SPE and an efficient and flexible video processing hardware engine that combines MPEG-2 and H.264 encoding and decoding, and low power consumption through a small circuit design.
* This product is limited to MPEG-2 output.
---
By adding this Plug-in to your EDIUS station, you can use it to access the detailed settings of the MPEG-1/2 encoder engine used in Pegasys' products. From the file output, you can now generate Elementary streams containing video along with Dolby Digital or MPEG-2 AAC audio. In addition to the manual settings, you can also choose preset templates for DVD-Video, Blu-ray video, and HDV MPEG file output. Even without any technical knowledge, you can generate standard compliant video just by selecting a template.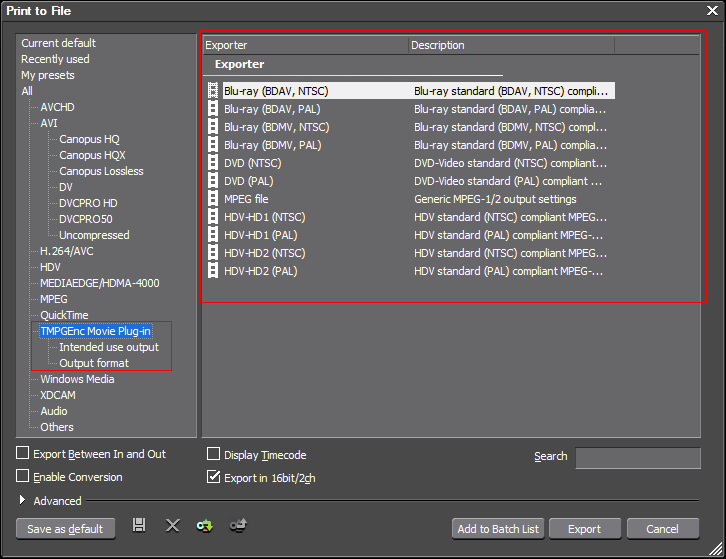 You can set the profile up to MP@HL with a resolution of 1920x1080. You can also change the aspect ratio or framerate settings. Moreover, you can choose the display mode between Interlace or Progressive, and also Inverse 3:2 pulldown.

In VBR mode, you can choose one or two passes, allowing you to finely control the bitrate.

You can choose the audio format among Linear PCM, MP2, Dolby Digital, MPEG-2 AAC, or MP3. Dolby Digital and MPEG-2 AAC support up to 5.1 channel output.

Here, you can set the GOP sequence. Set the maximum number of frames and the number of B Pictures and the P Picture sets automatically. You can even set a closed GOP for easier editing in the future or for compliance purposes.

You can use one of the built-in templates, MPEG Standard or CG/anime, according to your needs. Of course, you can also arbitrarily change the settings.

Last but not least, you can select between PAL or NTSC, set the YUV colorspace and much more. When outputting in MPEG-TS, you can even set a timestamped 192 packet format.

The TMPGEnc Movie Plug-in MPEG-2 for EDIUS can use the hardware encoder implemented in the Thomson Canopus FIRECODER Blu or Leadtek transcoding cards to dramatically accelerate the MPEG-2 output (especially for high-definition content) compared to the standard CPU encode.
*This plug-in only accesses the MPEG-2 output function of SpursEngine devices.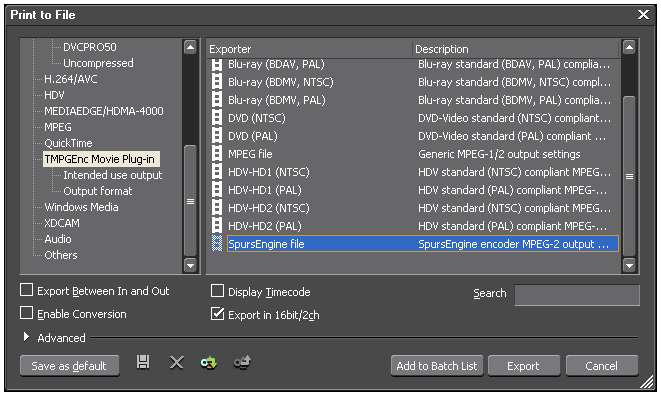 With the SpursEngine file output, you can use the Super-resolution technology to upscale SD resolution (720x480 etc) to an incredibly crisp HD (1920x1080) resolution. This can be used to mix both HD and SD materials.
---
System Requirements
Computer
IBM PC compatible
OS
Same as EDIUS Pro 7.
CPU
Same as EDIUS Pro 7.
RAM
Same as EDIUS Pro 7.
HDD space
About 40 MB + database
Screen resolution
Same as EDIUS Pro 7.
Other

・ Environment where Grass Valley EDIUS Pro 7 is installed.
・Access to the Internet required for periodic online license validation and software update.
・The SpursEngine output function requires a SpursEngine equipped device (sold separately).
・In order to use the Intel Media SDK encoder, a PC with a corresponding CPU is required.


Copyright Information:
TMPGEnc and the TE symbol are registered trademarks of Pegasys Inc.
EDIUS is a registered trademark of Grass Valley Co., Ltd.
Microsoft, Windows are registered trademarks of Microsoft Corporation for the United States of America and other countries.
Dolby and the double-D symbol are trademarks of Dolby Laboratories.
Confidential unpublished works. Copyright 1992-2005 Dolby Laboratories. All rights reserved.
MPEG Layer-3 audio coding technology licensed from Fraunhofer IIS and Thomson.
xbyak - Copyright© 2007 MITSUNARI Shigeo. All rights reserved.
Mersenne Twister - Copyright© 1997 - 2002, Makoto Matsumoto and Takuji Nishimura, All rights reserved.
zlib - Copyright© 1995-2013 Jean-loup Gailly and Mark Adler
All other marks, product names, and company names are property of their respective owner.