Pegasys Inc. Announces The Newly Improved
TMPGEnc MPEG Smart Renderer 6.
Next Generation Cut Editing Tool - Now Supports HDR Editing and Output.
Expanded Supported Formats and Many New Features.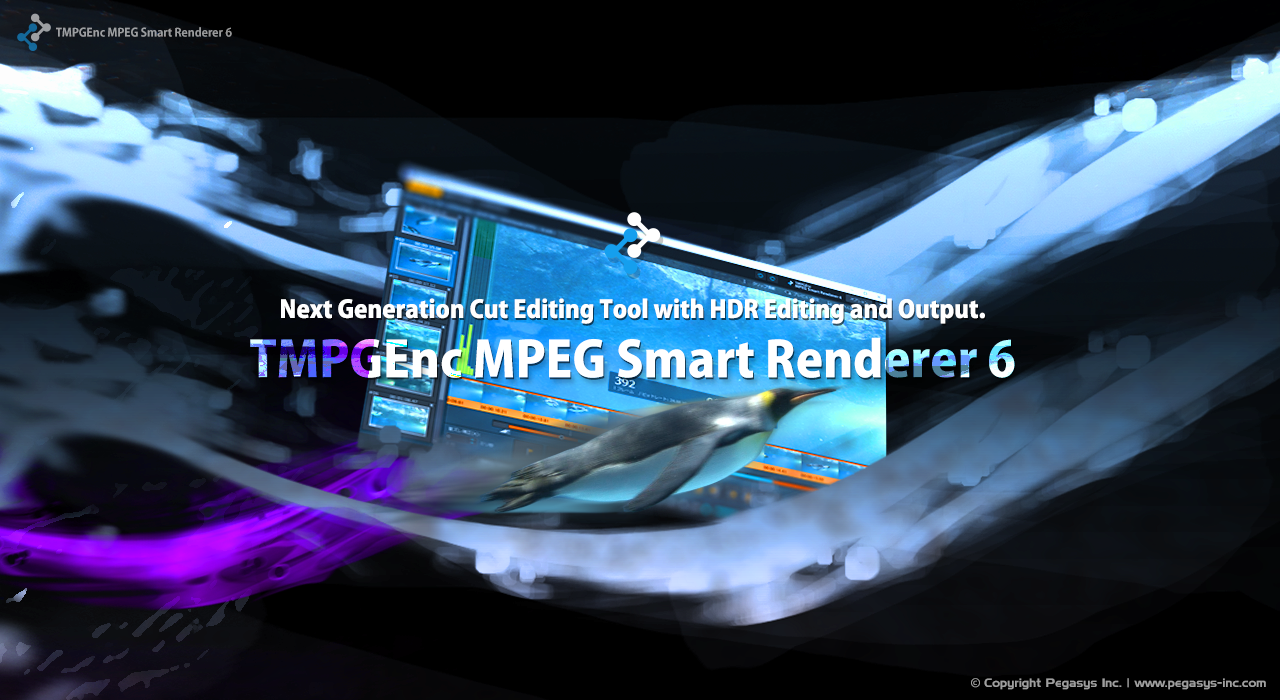 November 4, 2020
Tokyo, Japan - November 4, 2020 -
Pegasys Inc., the company that takes video to the next level, announces the upcoming release of TMPGEnc MPEG Smart Renderer 6, the successor to TMPGEnc MPEG Smart Renderer 5, on November 16 (PST), 2020. TMPGEnc MPEG Smart Renderer 6 is designed for cutting videos with great speed and detail. Standard video encoding software takes a lot of time to output. However, TMPGEnc MPEG Smart Renderer 6 minimizes the encoding range with its "Smart Rendering" feature, which is able to output video files with as little degradation as possible. That means practically no loss in quality other than the edited areas, and results in super-fast output.

This version newly supports previewing, editing and outputting in the HDR (High Dynamic Range) * color space. This allows the user to import footage recorded by HDR cameras or edited by HDR-supported editing software such as TMPGEnc Video Mastering Works 7, then export them with the original vividness without any deterioration other than the edited points. This version newly supports AVI (uncompressed, Motion JPEG, Cineform) and VP9 codec formats with Smart Rendering output. Smart rendering support has further increased for previously supported formats, including the expansion of compatible profiles, variable frame rate support, and more. Furthermore, new output support for XAVC and MXF containers has been added. Other new features that further enhance the convenience of cut editing, which is the heart of this software, have been implemented. The software also includes Blu-ray BDAV authoring and the Commercial Candidate Detector function, for a complete high speed experience of cutting, editing and output.


* PQ and HLG supported.
Main New Features
Smart Rendering function - Implements ultra-fast and excellent picture quality output.
AVI (uncompressed, Motion JPEG, Cineform) and VP9 Smart Rendering Output Support.
Supports 8K resolution output in the H.264/AVC and the VP9 formats in addition to the H.265/HEVC format.
H.2H.265/HEVC 10 bit 4:2:2 Input and Output Support.
Supports Variable Frame Rate Smart Rendering Output.
MXF Container Output Support.
XAVC Output Support.
ALAC Audio Input and Output Support.
Opus and Vorbis Audio Input and Output Support.
ISO Output Support for BDAV Authoring Data.
New HDR Editing and Outputting Support Features.
Smart Rendering Output Support while maintaining HDR Color Bit Range and Gamut.
Supports Real-Time Switching of the HDR Display.
HDR Enhanced Title Function.
Newly Added Histogram Display Function.
More Sophisticated Editing Functions and Interface.
Timecode Display Editing Support.
Supports Project File Saving in Clip-Editing Window.
Project Recovering Function Installed.
Enhanced the Undo/Redo Adopted Range.
Newly Added Easing Function to Transition Effects.
The Newly Evolved Cut Editing Interface - Easier to Use, Precise and Quick.
Easily Search by Displaying Thumbnail with Mouse Hover.
Frame Bitrate Display Support.
Automatically Restores the Last Edited Position.
Audio Scrubbing and Audio Playback in Fast Forward Support.
Preview Control with Improved Magnification.
Supports Registering Any Range as Clip.
Direct Shift Support for Keyframe/Split Point.
Undocking Support for Panels of Clip Properties, Settings, etc.
Supports Smart Rendering Analysis in Cut Edit Window.
Master Clip Change on Clip Editing Window Support.
Further Enhanced Title and Audio Filters Functions.
Ruby Character and Tag Insertion Support: Title Function.
Newly Added Loudness Standard to the Audio Volume Adjustment Filter.
Commercials Detection Is Easier To Use and More Flexible.
Detection Result Can be Seen on Source Stage.
Changeable Parameters for Detection Precision.
More Increased Abilities - Output Settings.
Supports Program Information Output in ISDB Standard.
Audio Language Setting Output Support.
VR/3D Metadata Settings Support.
Direct Access to the Output Preview.
Output Log Export Function.
And more...
For more information, visit the TMPGEnc MPEG Smart Renderer 6 webpage: https://tmpgenc.pegasys-inc.com/en/product/tmsr6.html

About PEGASYS Inc.
PEGASYS Inc. takes video to the next level. Headquartered in Tokyo, Japan, PEGASYS was established in November 2001 with the release of TMPGEnc Plus -- probably the world's most popular MPEG-1/2 video encoding software and at the time, was the only freeware video encoder. The company's two flagship products, the TMPGEnc Video Mastering Works 7 video encoder and TMPGEnc Authoring Works 6, anchor a strong line of retail and OEM digital video editing and encoding products for home and professional users.

The recognized leaders in developing quality video encoding tools for MPEG applications, PEGASYS Inc.'s encoding technology is also incorporated into numerous commercial and professional video editing and DVD-creation software products. For information about PEGASYS Inc. and its products, visit www.pegasys-inc.com.

Japan Headquarters:
Pegasys Inc.
5F Yanagibashi M Bldg.
1-2-12 Yanagibashi Taito-ku
Tokyo 111-0052
---