Pegasys Inc. Announces The Newly Improved
TMPGEnc Authoring Works 7.
The ultimate DVD / Blu-ray creator takes you to the next stage.
Six Years In the Making, the Successor to TMPGEnc Authoring Works 6 Is Completely Improved With New Features.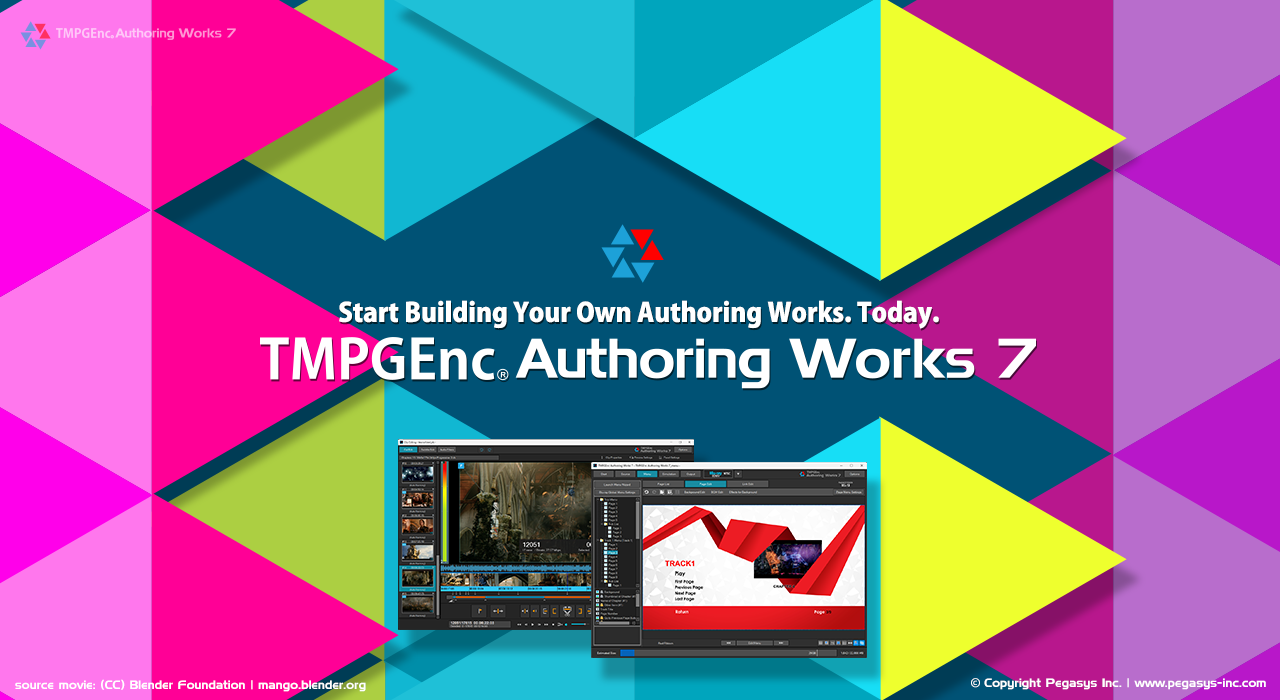 June 2, 2023
Tokyo, Japan - June 2, 2023 -
Pegasys Inc., the company that takes video to the next level, announces the upcoming release of TMPGEnc Authoring Works 7, the successor to TMPGEnc Authoring Works 6, on June 8th (JST), 2023. The ultimate DVD/ Blu-ray creation software has evolved to the next stage with the first major update in six years. This time, significant improvements and enhancements have been made, including support for hard-coded subtitles and greatly enhanced menu editing functions.

TMPGEnc Authoring Works 7 is the best software to create a DVD / Blu-ray / AVCHD with high quality menus. It has the most powerful authoring engine which combines the best quality encoding engine with the "Smart Rendering" function that allows ultra-fast output of standard complaint video with little to no loss in quality.
This version brings many improvements and enhancements, such as wide support for recent formats, a further evolved and enhanced cut editing window, hard-coded subtitles insertion support, and hardware acceleration support in Vulkan. Furthermore, mainly based on user feedback, this version includes significant enhancements to the menu structure and supports track/chapter settings allowing configuration of menus with more flexible behavior. That means creating menus that are even more original than with previous versions.
Since this version keeps the same "easy-to-use" concept, those who are not familiar with video editing software can use it with ease, with simple operations and easy menu creation using more than 130 menu templates.
Main New Features
Enhanced Input Formats.
H.265/HEVC 10 bit 4:2:2 Input Support.
Apple ProRes Stream Import Support.
Canon Cinema Raw Light file Input Support.
XAVC HS Input Support.
GoPro Cineform® Proxy Codec Support.
ALAC Audio Input Support.
Opus and Vorbis Audio Input Support.
More Sophisticated Editing Functions and Interface.
Timecode Display Editing Support.
Supports Project File Saving in Clip-Editing Window.
Project Recovering Function Installed.
Newly Added Easing Function to Transition Effects.
Title/Multi Stream Analyzer - Post-application supported.
The Newly Evolved Cut Editing Interface - Easier to Use, Precise and Quick.
Easily Search by Displaying Thumbnail with Mouse Hover.
Faster Enhanced Drag Seeking. Even Faster with Index for Seeking.
Frame Bitrate Display Support.
Player Controller Undocking Support.
Position Change of the Player Control Buttons Support.
Automatically Restores the Last Edited Position.
Audio Scrubbing and Audio Playback in Fast Forward Support.
Preview Control with Improved Magnification.
Supports Registering Any Range as Clip.
Direct Shift Support for Keyframe/Split Point.
Supports Hardware Accelerated Filtering with "Vulkan®" in addition to "CUDA™".
Further Enhanced Subtitles Editing and Audio Filtering Functions.
Newly Supports Adding Hardcoded Subtitles.
Enhanced Ruby Character and Tag insertion Support.
RTL Language Input Support.
WebVTT Subtitles Importing and Saving Support.
Supports Importing/Saving Subtitles File After Cut Editing.
Newly Added Loudness Standard to the Audio Volume Adjustment Filter.
Further Enhanced Menu Editing Functions.
Over 130 Templates Pre-installed.
More Options for "Playback End Action" are Available.
Advanced Structure Settings/Sub-List Addition Support.
Animation GIF/PNG Input Support.
Supports Switching Texts and Images.
Custom Menu Items Can Now Be Applied on a Page-by-Page Basis.
Extending the Highlight Area Support.
Supports Motion Menu Rendering Data Retention.
And more...
For more information, visit the TMPGEnc Authoring Works 7 webpage: https://tmpgenc.pegasys-inc.com/en/product/taw7.html

About PEGASYS Inc.
PEGASYS Inc. takes video to the next level. Headquartered in Tokyo, Japan, PEGASYS was established in November 2001 with the release of TMPGEnc Plus -- probably the world's most popular MPEG-1/2 video encoding software and at the time, was the only freeware video encoder. The company's two flagship products, the TMPGEnc Video Mastering Works 7 video encoder and TMPGEnc Authoring Works 7, anchor a strong line of retail and OEM digital video editing and encoding products for home and professional users.

The recognized leaders in developing quality video encoding tools for MPEG applications, PEGASYS Inc.'s encoding technology is also incorporated into numerous commercial and professional video editing and DVD-creation software products. For information about PEGASYS Inc. and its products, visit www.pegasys-inc.com.

Japan Headquarters:
Pegasys Inc.
5F Yanagibashi M Bldg.
1-2-12 Yanagibashi Taito-ku
Tokyo 111-0052
---