Pegasys Inc. Announces The Newly Improved
TMPGEnc Video Mastering Works 7.
The Best Encoder - Now with HDR Editing and 8K Output Support.
The All-In-One Video Encoder Software with Advanced Innovation and Powerful Editing Functions.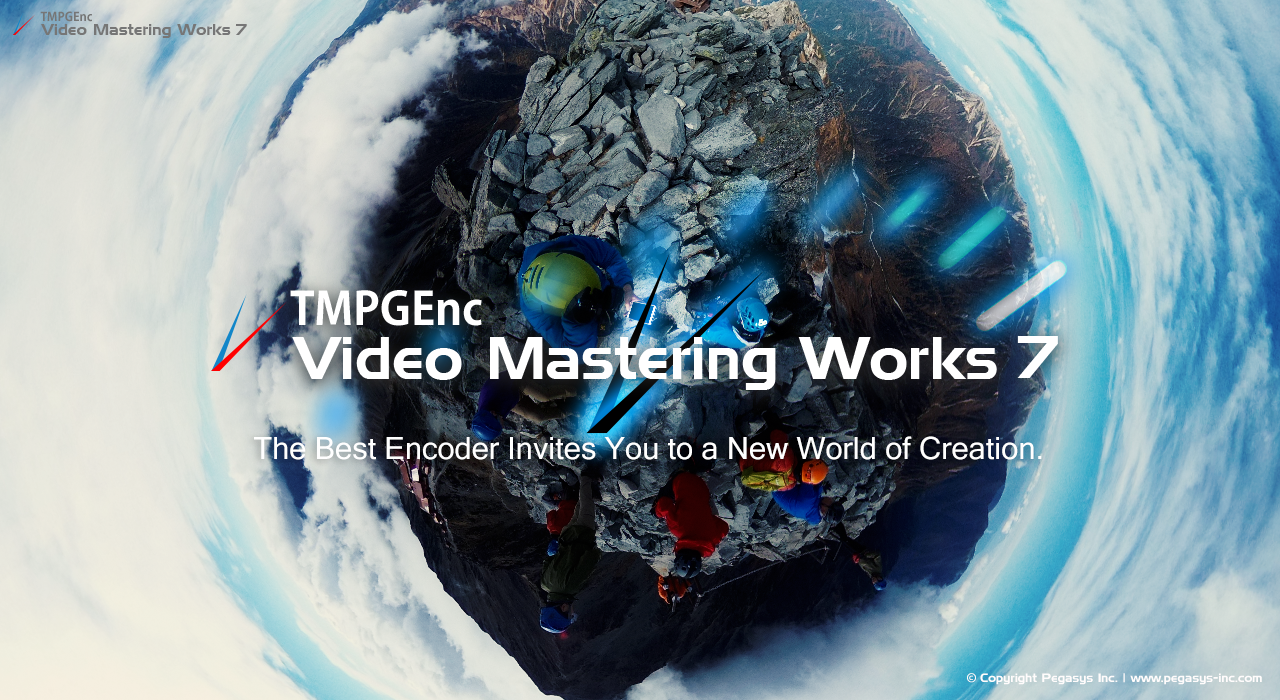 June 13, 2019
Tokyo, Japan - June 13, 2019 -
Pegasys Inc., the company that takes video to the next level, announces the upcoming release of TMPGEnc Video Mastering Works 7, the successor to TMPGEnc Video Mastering Works 6, on June 25 (PST), 2019. TMPGEnc Video Mastering Works 7 features support for many input and output formats, detailed parameter settings, fast and precise cut-editing, video format conversion, compression, material creation, and much more. This is the high-quality encoding choice of video enthusiasts - this is TMPGEnc Video Mastering Works 7.

This version supports previewing, editing and outputting in the HDR (High Dynamic Range)* color space, and also supports H.265/HEVC 8K 10 bit 4:2:2 output. This allows the user to import footage recorded by HDR cameras, then edit and export them with the full range of vividness captured by the camera. Furthermore, this version newly features the LUT (Lookup Table) application, 3-way Color Correction and more options that are specialized for color grading. Thanks to user feedback, all functions within the editing interfaces have been improved to enhance the convenience and efficiency of the editing workflow. Users can get even more creative with new animation and karaoke text functions, and improved and accelerated filters.

TMPGEnc Video Mastering Works 7 advances the concept of the ultimate all-in-one encoding solution, allowing users to experience the latest innovations with the flexibility they require.


* PQ and HLG supported.
Main New Features
Enhanced Input and Output Formats.
Supports 8K resolution output in the H.264/AVC and the VP9 formats in addition to the H.265/HEVC format.

Canon Cinema Raw file Input Support.

Apple ProRes Stream Import Support.

H.265/HEVC 10 bit 4:2:2 Input and Output Support.

WebM/MKV VP9 Output Support.

Opus Audio Output Support.

GoPro Cineform® Output Support.

Animation GIF/PNG Output Support.

More formats newly added to the Sequential Still Picture Files Output.

Supports Log Curves of Major Cameras.

PID Settings Support for MPEG-TS Container.
New HDR Editing and Outputting Support Features.
Supports Real-Time Switching of the HDR Display.

Working Color Space is Available - Color Management Function.

LUT (Lookup Table) Application Support.

Possible to Simply Setup the Output Color Profile.

HDR Metadata Output Support.

HDR Enhanced Color Correction Filter.

Linking with TMPGEnc Series Software Function.
More Sophisticated Editing Functions and Interface.
Timecode Display Editing Support.

Supports Project File Saving on Clip-Editing Window.

Project Recovering Function Installed.

Enhanced the Undo/Redo Adopted Range..

QR Code Clip Creation.

Title/Multi Stream Analyzer - Post-application supported.

Newly added Easing function to many animation effects like transition, transform, etc.
Normal Mode Has Become Even Easier to Use.
Output Clip Selection Support.

Multiple Clips Grouping Support.

Supports Audio Channel and Aspect Ratio Change via Clip Properties.
Newly Evolved Cut Editing Interface.
Faster Enhanced Drag Seeking. Even Faster with Index for Seeking.

Quick Cut Function - Instantly Cut at the Range Set.

Displays Current Frame Information in Real-time.

Player Controller Undocking Support.

Position Change of the Player Control Buttons Support.
Further Added and Enhanced Filters
Video Stabilizer Filter Newly Implemented.

Lens Correction Filter Newly Implemented.

Motion Tracking on the Mask Filter.

Frame Interpolation Filter Newly Implemented.

Glitch Noise Filter Newly Implemented.

Newly Added Loudness Standard to the Normalization Method for the Audio Adjustment Filter.

Audio Compressor Filter Newly Implemented.

Little Planet Video Creation Support.
Increase Creativity - Enhanced Timeline Editing Mode.
Newly Implemented Crop Mode on Preview.

Text with Animation Function Newly Implemented.

Karaoke Text Function Newly Implemented.

Source Monitor Function.

Newly Added Clip Properties/File History Functions.

Pre-Installed Assets.
More Increased Abilities - Output Settings.
Custom Aspect Ratio Support.

Vertical Video Settings Support.

Direct Access to the Output Preview.

Encode Log Export Function.
And more...
For more information, visit the TMPGEnc Video Mastering Works 7 webpage: https://tmpgenc.pegasys-inc.com/en/product/tvmw7.html

About PEGASYS Inc.
PEGASYS Inc. takes video to the next level. Headquartered in Tokyo, Japan, PEGASYS was established in November 2001 with the release of TMPGEnc Plus -- probably the world's most popular MPEG-1/2 video encoding software and at the time, was the only freeware video encoder. The company's two flagship products, the TMPGEnc Video Mastering Works video encoder and TMPGEnc Authoring Works, anchor a strong line of retail and OEM digital video editing and encoding products for home and professional users.

The recognized leaders in developing quality video encoding tools for MPEG applications, PEGASYS Inc.'s encoding technology is also incorporated into numerous commercial and professional video editing and DVD-creation software products. For information about PEGASYS Inc. and its products, visit www.pegasys-inc.com.

Japan Headquarters:
Pegasys Inc.
5F Yanagibashi M Bldg.
1-2-12 Yanagibashi Taito-ku
Tokyo 111-0052
---