Pegasys Inc. Announces The Newly Improved
TMPGEnc KARMA.. Plus 2.
The Successor to TMPGEnc KARMA.. Plus Adds New Features and Improvements For Even Easier Video File Management and Viewing.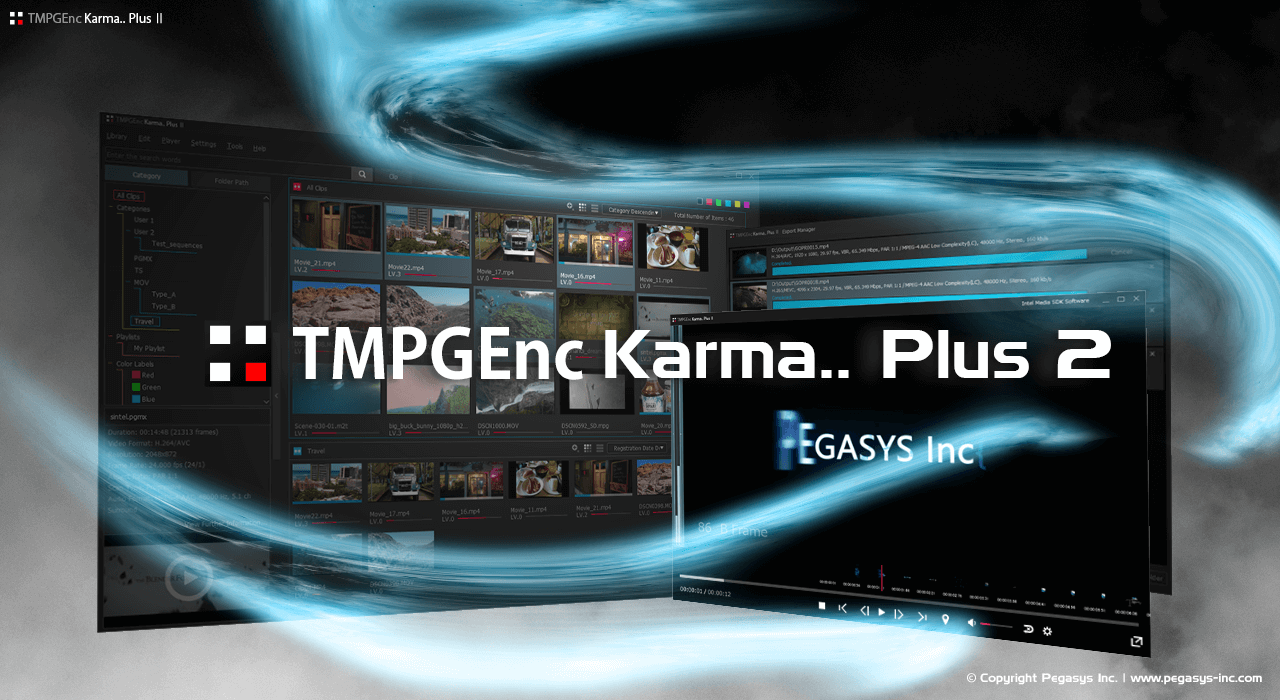 Dec 7, 2017
Tokyo, Japan - Dec 7, 2017 -
Pegasys Inc., the company that takes video to the next level, announces the English version of TMPGEnc KARMA.. Plus 2 will be released on December 14, 2017. The successor to TMPGEnc KARMA.. Plus, this dedicated video file management software has been completely overhauled using feedback from users to bring exciting new features in an even easier to use interface.

"If you're dedicated, there's nothing you can't do."

"TMPGEnc KARMA.. Plus 2" is a dedicated application that can centrally manage browsing, searching, classification, comparison, and more of the many movie files saved on a user's computer. Recently, recording or content formats have largely migrated from pictures to movies because of the progression of technology such as the communications infrastructure or smart phones. Now, an over-abundance of video files can occupy a PC's hard drive, and a solution is needed to manage this continuously increasing amount of video files. That solution is TMPGEnc KARMA.. Plus 2.

In this new version, most of the interfaces have been improved based on the feedback from the previous version's users, and provides a multitude of new and improved functions such as digest movie playback via a simple mouseover, adding chapters using commercial candidates detection, double speed playback with audio, and more. In addition, this version supports H.264/AVC and H.265/HEVC hardware encoding by using Intel™ Quick Sync Video, NVIDIA NVENC and AMD Media SDK(VCE) technologies. "Linking with TMPGEnc products", "Karma Level" and other brand-new functions help refine this version to be more convenient and enjoyable.


Main New Features
Import Related:
H.265/HEVC Smart Import Support.

MXF Container Support.

10-bit 4:4:4 H.264/AVC Input Support.

XAVC S Input Support.

WebM(VP8/9)/Ogg Input Support.

Simple Audio File Input Support.

Title/Multi Stream Analyzer Loaded.
Main Library Window Related:
Achieve Free Display – Library View.

Movie Display mode is newly added - Story Thumbnail Function.

Capable of distinctions of the viewed or unviewed contents.

Enhanced Quick Preview functions.

Commercial Candidates Detector Loaded.

Pegasys Product's keyframe can be used as chapter.

Linking with TMPGEnc Series Software Function.
Player Window Related:
All Renewed Player.

Easy Search Function via mouseover.

Fast/Slow Playback Function.

Flexible Preview Control Focused on the 8K Era.

"NVDEC/CUDA™", "Intel® Media SDK(QSV)", "AMD Media SDK" Hardware Decoding Support.

Current Frame Information Display Function.

Multiple Subtitles and Audio Playback/Selection Support.

Enhanced Chapter Function.

Make it More Easy to See. Filters Function.

Preview Image Saving Support.

Full Synchronous Two Video Files Playback. Improved Dual Mode Player
File Output Related:
H.265/HEVC format newly supported.

Intel® Quick Sync Video High-Speed Encoder Support.

High-Speed Hardware Encoder "NVENC" Support.

AMD Media SDK (VCE) High-Speed Encoder Support.
Other:
Native Support for 64-bit Architecture.

TMPGEnc Smart Tap Controller Support.

Karma Level Function.

Playback History Function.

Capable of registering the Default Player.

Thumbnail Image Import Support.

And more...

For more information, visit the TMPGEnc KARMA.. Plus 2 webpage: https://tmpgenc.pegasys-inc.com/en/product/tmkp2.html

About PEGASYS Inc.
PEGASYS Inc. takes video to the next level. Headquartered in Tokyo, Japan, PEGASYS was established in November 2001 with the release of TMPGEnc Plus -- probably the world's most popular MPEG-1/2 video encoding software and at the time, was the only freeware video encoder. The company's two flagship products, the TMPGEnc Video Mastering Works 6 video encoder and TMPGEnc Authoring Works 5, anchor a strong line of retail and OEM digital video editing and encoding products for home and professional users.

The recognized leaders in developing quality video encoding tools for MPEG applications, PEGASYS Inc.'s encoding technology is also incorporated into numerous commercial and professional video editing and DVD-creation software products. For information about PEGASYS Inc. and its products, visit www.pegasys-inc.com.

Japan Headquarters:
Pegasys Inc.
5F Yanagibashi M Bldg.
1-2-12 Yanagibashi Taito-ku
Tokyo 111-0052




---