Pegasys Licenses High-Quality H.264 Encoder from x264 LLC for Video Conversion Software
x264 Encoder to be Integrated in Pegasys' Next Generation of TMPGEnc 4.0 XPress with Advanced Options for H.264 Encoding
November 25, 2010
Ryogoku, Sumida-ku, Tokyo - November 25, 2010 -
Pegasys Inc. announced today that it has formally signed an agreement with x264 LLC for the use of the x264 H.264/AVC encoder under a commercial license. The x264 encoder will be integrated into the next generation of Pegasys' popular video conversion software, TMPGEnc 4.0 XPress, and will be the first commercial software granted a commercial license for this technology in Japan.

x264 is used by well-known websites such as YouTube and Facebook, and is widely regarded as the world's best H.264 encoder. With ten years of experience in video software and user interface design, Pegasys will seamlessly integrate the x264 encoder into TMPGEnc and bring x264's state-of-the-art encoding technology to their video creation software.

Pegasys is world renowned for its video conversion software, used to compress and convert video files to numerous formats with an easy-to-use interface that attracts users the world over. Customers demand a high-quality video format that is easy to process. The x264 encoder, with its combination of encoding quality and flexible options, falls in line with Pegasys' goals and the customer's needs making this agreement a perfect match.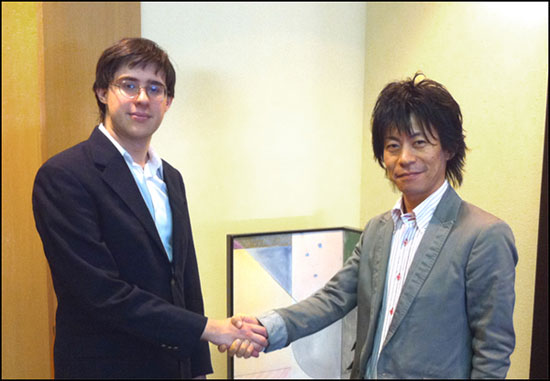 x264, LLC representative Jason Garrett-Glaser with Pegasys CEO, Tak EBINE.
"For the past decade, we have been developing video software with our in-house developers," stated Tak EBINE, CEO of Pegasys. "However, in today's market, more and more technology is being shared and licensed. YouTube, Ustream, and other video sharing and distribution sites are diversifying the video on demand market. This has led us to adopt a new policy to rely not only on our in-house technology but also on the best technology from other developers, such as the x264 team, to meet the high demands of our customers and improve the quality of Pegasys software."

"For the past seven years, x264 has advanced from a small project to the world's most powerful H.264 encoding software," said Jason Garrett-Glaser, x264 developer. But being the best is only half the battle: the other task is making it available for everyone. With our new commercial licensing program, Pegasys is now able to use x264 in TMPEGEnc, making it easier than ever for more people to create high quality video."

About PEGASYS Inc.
Pegasys Inc., perhaps known best for their TMPGEnc MPEG encoder, is a multimedia software company that provides video editing, encoding, and authoring software. Its flagship products include TMPGEnc 4.0 XPress, the latest version of Pegasys's encoding software, and TMPGEnc Authoring Works 4, software for authoring Blu-ray Discs and DVD. Focusing on easy-to-use user interfaces and high-concept product development, Pegasys Inc. is a forward-thinking company that always seeks to improve its products using the best technology available.

About x264, LLC
x264 LLC represents the commercial arm of the x264 development team. x264 LLC was created in response to enormous demand for a commercially-friendly alternative to the open source GNU General Public License (GPL) for x264. Today, x264 LLC is offering a commercial license for x264, making the world's most powerful H.264 encoding solution available to the commercial world. All profits from commercial licensing through x264 LLC are re-invested into x264 and the open source community.

About x264
x264 is a high-performance, high-quality, fully-featured open source solution for H.264 video encoding. Originally created in 2003 by Laurent Aimar, x264 is now used for a wide variety of applications including web video, broadcast television, cloud gaming, videoconferencing, and Blu-ray authoring. x264 is currently developed by a team of developers from around the world, led by Jason Garrett-Glaser and Loren Merritt.

© 2010 PEGASYS Inc. All rights reserved. Specifications are subject to change without notice. All other trademarks are the property of their respective companies.
---