TMPGEnc 4.0 XPress Encoding Software Does AVCHD, Blu-ray and HD MPEG 4/H.264 Formats
Now Users can Convert AVCHD Camcorder Footage into a Variety of Popular Video Formats
June 18, 2008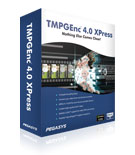 Gardena, CA - June 18, 2008 -
TMPG, Inc. (www.tmpg-inc.com), the company that makes digital video easy, is introducing an updated version of its popular video encoding software TMPGEnc 4.0 XPress. Due to user demand TMPG, Inc. has now added input support for AVCHD, AAC in an MPEG-2 stream and embedded MPEG-4 input support. The new update also provides output support for High Definition MPEG-4 video and Blu-ray BDAV/BDMV templates. The software upgrade will be available at the end of June at www.tmpg-inc.com and will be free for current TMPGEnc 4.0 XPress users. New users may purchase the updated software for $99.95 per license.

"We have had many requests for these particular high definition video and Blu-ray upgrades and we are pleased to now offer them to our customers," stated Kimi Matsuki, TMPG Inc. CEO. "As always, we will continue to keep TMPGEnc 4.0 XPress relevant and up to date with support for the latest formats for our customers."

Following are the new input/output features for the TMPGEnc 4.0 XPress upgrade:

AVCHD Format - Input Support
This is a feature that has been heavily requested by TMPGEnc users. AVCHD is a HD tapeless video format used in many of today's HD camcorders (such as Sony, Panasonic, and Canon). With AVCHD input support, TMPGEnc 4.0 XPress users can now cut-edit, apply filters and convert AVCHD footage into a video format of choice.

HD MPEG-4 AVC/H.264 - Output Support
Users can now output video in the MPEG-4 AVC format at high definition. This will allow users to take advantage of the format's high compression rates at high definition resolutions.
Embedded MPEG-4 Video Input Support
MPEG-4 video input support is now embedded into TMPGEnc 4.0 XPress without the help of QuickTime.

AAC Audio Input Support in MPEG-2 Transport Stream
The popular AAC audio format can now be used as an audio source in MPEG-2 transport streams.

Blu-ray BDAV/BDMV MPEG-2 Output Template
Users can now output to the increasingly popular Blu-ray video format.

Other added features include:
TMPG now offers AVI color space settings for each DirectShow codec.

About TMPG, Inc.
TMPG, Inc. makes digital video easy. Headquartered in Gardena, California, the company was established early in 2003, built on a solid foundation of technology developed by its parent company, Pegasys Inc. The company's two flagship products, the TMPGEnc video encoder series and the new TMPGEnc DVD Author, anchor a strong line of retail and OEM digital video editing and encoding products for home and professional users.

The recognized leaders in developing quality video encoding tools for MPEG applications, TMPG Inc.'s encoding technology is also incorporated into numerous commercial and professional video editing and DVD-creation software products. Applications developed by its parent, PEGASYS, have been bundled with quality products from top worldwide manufacturers, including Sony Japan and Pioneer Australia. For more information about TMPG, Inc. and its products, visit the company's website at www.tmpg-inc.com.



© 2008 TMPG, Inc. All rights reserved. Specifications are subject to change without notice. All other trademarks are the property of their respective companies.
---