TMPG Introduces TMPGEnc MPEG Editor 3 Software for Writing Video to Blu-ray Discs
New Software Offers Output and Burn to Blu-rayDisc and DVD-Video Plus 171 Video Transition Effects to Create Customized Videos
May 1, 2008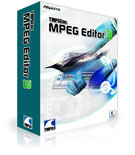 Gardena, CA - May 1, 2008 -
TMPG, Inc., the company that makes digital video easy, is about to make Blu-ray Disc creation easier. TMPGEnc MPEG Editor 3 is an easy to use, frame-level cut video editing software package loaded with many advanced features including the ability to output and burn to the Blu-ray Disc (BDAV) high definition video format. The free trial is currently available for download at www.tmpg-inc.com. The full retail version will be available May 14th at $64.95 per license. A special limited-time discount price of $51.95 will also be available for all registered TMPGEnc product owners.

"TMPGEnc MPEG Editor 3 offers state-of-the-art technology to smoothly edit high-definition video, plus a host of Blu-ray Disc oriented features. As more professional and amateur videographers embrace high definition video recording, there will be an increasing demand for good software to edit and write video to Blu-ray Disc," commented TMPG Inc. CEO Kimi Matsuki.

"Now users can capture high definition and other digital video directly from many sources to quickly edit and output in a high definition format. Its robust interface, combined with Blu-ray Disc and DVD-Video writing capabilities makes digital editing easier than ever before," added Matsuki.

Other powerful features of MPEG Editor 3 include set top DVD Recorder (DVD-VR) support, DVR-MS support, integrated Dolby® Digital sound, fit-to-disc transcoding, VRCopy DVD-RAM importing and writing tool, Smart Rendering, multiplexing and de-multiplexing and more. The software is optimized for Intel™ dual and quad core processors.

Blu-ray Disc
Now users can output and burn to Blu-ray Disc (BDAV). This is a great option for users who have high definition footage from sources such as an HDV camcorder. Single and dual layer BD-RE (Ver.2) and BD-R (Ver.1.1/1.2) discs are supported.

High Definition Video Editing
Users can capture video directly from a HDV camcorder to TMPGEnc MPEG Editor 3 via an i.LINK/IEEE 1394 interface.

Easy DVD Authoring
Another new feature is the ability to output and burn to DVD-Video. The user can even create a simple DVD menu (fixed template). A Writing Tool is also included for users that have video content ready for burning to Blu-ray Disc or DVD.

Video Transition Effects
The Transition Editor allows users to choose a transition effect, set the duration, and preview the video. The new Transition Selector helps make it easier to find the type of transition the user is looking for among the 171 different effects. Examples of the new transition effects are Star, Keyhole, Checkerboard, Fan, Flip and Roll.

Improved User Interface
Improved utilization of the video processor's power makes navigating high definition clips easier. And with the Smart Scene Search™ feature, where users can quickly find the next or previous scene change, searching for that one scene during video editing has never been easier.

DVD Recorder Editing
The software allows DVD recorder users to import footage directly into MPEG Editor 3. Remove commercials or unwanted scenes and play the file back on a DVD recorder since the software processes video with virtually no re-encoding.

Smart Rendering
Smooth-cut editing is assured with advanced Smart Rendering technology, which only re-encodes edited frames instead of the entire movie.

VRCopy Tool
Powered by Panasonic and Matsushita Electric Industrial Co., Ltd., the VRCopy tool allows users to read and write to DVD-RAM discs. Many DVD recorders use DVD-RAM discs; the VRCopy tool can be used to import content so it can be edited and then output it back to a DVD-RAM disc.

About TMPG, Inc.
TMPG, Inc. makes digital video easy. Headquartered in Gardena, California, the company was established early in 2003, built on a solid foundation of technology developed by its parent company, Pegasys Inc. The company's two flagship products, the TMPGEnc video encoder series and the new TMPGEnc DVD Author, anchor a strong line of retail and OEM digital video editing and encoding products for home and professional users.

The recognized leaders in developing quality video encoding tools for MPEG applications, TMPG Inc.'s encoding technology is also incorporated into numerous commercial and professional video editing and DVD-creation software products. Applications developed by its parent, PEGASYS, have been bundled with quality products from top worldwide manufacturers, including Sony Japan and Pioneer Australia. For more information about TMPG, Inc. and its products, visit the company's website at www.tmpg-inc.com.



© 2008 TMPG, Inc. All rights reserved. Specifications are subject to change without notice. All other trademarks are the property of their respective companies.
---