TMPGEnc Introduces MovieStyle to Convert Movie Files for Viewing on a Variety of Digital Devices
New Drag and Drop Software Makes It Easy to Enjoy Video Clips Virtually Any Time, Any Place
March 18, 2008
Gardena, CA - March 18, 2008 -
TMPG, Inc. (www.tmpg-inc.com), the company that makes digital video easy, has added TMPGEnc MovieStyle to its software lineup. It allows users to easily convert video clips for use on 11 popular digital devices from portables such as the iPod and PSP to full HD devices such as Sony's Playstation 3. The free trial will be available for download on March 27th at www.tmpg-inc.com. The full retail version will be available shortly thereafter at $39.95 per license.

"More and more, people are using digital devices to watch their favorite video clips, whether it's portable devices or video game consoles," remarked Kimi Matsuki, TMPG CEO. "With MovieStyle, users can easily convert video clips for these devices without any video encoding knowledge. That means users of any age, experienced or inexperienced, can use this software to convert video for portable or HD devices. We like to say, MovieStyle: your movies, your digital lifestyle."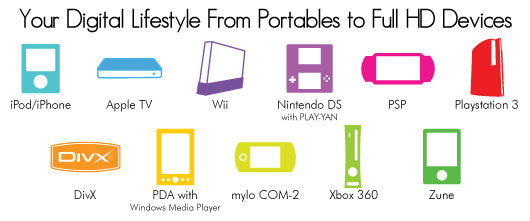 TMPGEnc MovieStyle converts video clips to portable and high definition formats compatible with a number of popular digital devices, including: iPod®/iPhone®, Apple® TV, Sony® mylo™ COM-2, PSP™, Playstation® 3, Zune™, Xbox 360™, Nintendo DS™ with PLAY-YAN, Nintendo® Wii™, PDA's with Windows Media Player, and DivX®. Accepted input formats include AVI, MPEG, MPEG4, Windows Media Video (wmv), QuickTime, H.264, DivX®, DVD-Video/DVD-VR, Media Center PC (DVR-MS), and MOD (a file format used by JVC Everio HDD camcorders). HDV camcorder files are also supported.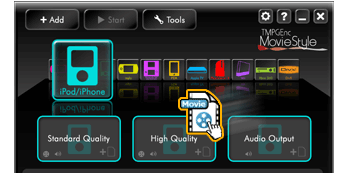 MovieStyle's sleek and user friendly interface makes converting video clips a quick and painless process. Simply select a device, then drag and drop video clips to begin converting. The converting templates eliminate guesswork and saves time. The included TMPGEnc TransManager™ helps organize converted video clips and assists in transferring the clips to the desired device.

A number of time-saving features are also included. The Quick Encode feature allows users to convert video clips without opening the MovieStyle application. Simply right-click on the video clip and select the desired digital device from the drop-down menu to start converting. The Drop Folder feature lets users specify a folder for MovieStyle to monitor. When a video clip is saved in the folder, MovieStyle will automatically convert it for the user-specified digital device.

Other features allow users more control over the converting process. The Cinema Mode option converts the video to 24 frames per second. For PSP users, the PSP Overdrive option takes advantage of the PSP LCD driver characteristics to improve video display quality. Users can also enable Karaoke Mode, which cancels out vocals from the audio track, and use the Pitch Changer settings to alter the audio pitch. The Audio Only option (not available for all devices) can convert video into an audio file.

For users short on time, the Time Stretch feature can convert the video to play at up to 1.5 times the normal speed, complete with fully understandable audio, allowing users to view a 1 hour video in approximately 40 minutes. Conversely, Time Stretch can also be used to convert the video to play up to 50% slower, making a 1 hour video into an approximately 2 hour video. This may be valuable for users who are learning a new language and need to study pronunciation and sounds.

About TMPG, Inc.
TMPG, Inc. makes digital video easy. Headquartered in Gardena, California, the company was established early in 2003, built on a solid foundation of technology developed by its parent company, Pegasys Inc. The company's two flagship products, the TMPGEnc video encoder series and the new TMPGEnc DVD Author, anchor a strong line of retail and OEM digital video editing and encoding products for home and professional users.

The recognized leaders in developing quality video encoding tools for MPEG applications, TMPG Inc.'s encoding technology is also incorporated into numerous commercial and professional video editing and DVD-creation software products. Applications developed by its parent, PEGASYS, have been bundled with quality products from top worldwide manufacturers, including Sony Japan and Pioneer Australia. For more information about TMPG, Inc. and its products, visit the company's website at www.tmpg-inc.com.



© 2008 TMPG, Inc. All rights reserved. Specifications are subject to change without notice. All other trademarks are the property of their respective companies.
---